Product News: Computer Hardware & Peripherals
WXGA 7U Rack Mount Monitor targets naval applications.
Press Release Summary: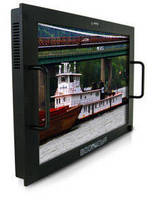 October 9, 2012 - Featuring 1,440 x 900 pixel resolution and 16:10 aspect ratio, 19 in. PowerVue VT190RWP2 is compatible with most marine electronics and computers. Unit has 250 nits LCD flat panel with external, manual, full range dimming dial, allowing for 0–100% display illumination. Black-powder coated aluminum front bezel resists corrosion from harsh elements such as splashing salt water. Operating from 12 Vdc or 9–36 Vdc, widescreen monitor can be configured with resistive or capacitive touchscreen.
VarTech Systems, Inc. - Baton Rouge, LA
Original Press Release
The All-New Marine Grade 19 Inch Widescreen 16:10 WXGA PowerVue Series Monitor From VarTech Systems
Press release date: October 3, 2012
In order to meet the growing demands for larger widescreen display monitors in naval applications, VarTech Systems Inc. has engineered the VT190RWP2; a 16:10, 7U, rack mount monitor with a stunning WXGA (1440 X 900)  resolution display that is fully compatible with most marine electronics and computers. The VT190RWP2, which has a 0 to 50C operating temperature, consists of a 250 nits brightness LCD flat panel with an external, manual, full range dimming dial allowing for fluent 0 to 100 percent display illumination. This makes the VT190RWP2 a valuable addition to any sea vessel's open cockpit or control room where there is a high degree of ambient outdoor lighting as well as night time conditions when less brightness is needed.

The marine grade VT190RWP2 display monitor's mounting provisions include pass-through holes for easy installation into any console along with rugged front handles granting easy placement and retrieval during installs and/or removal. The monitor's rugged black-powder coated aluminum front bezel increases its resistance to corrosion from harsh elements such as splashing salt and fresh water, mud, dirt and debris. The VT190RWP2 can be configured optionally with either resistive or capacitive touch screens, integrating well into marine computer systems and eliminating the need for a mouse and keyboard. Another testament to this marine grade monitor's versatility is its optional power supply sources which can include either 12VDC or 9 – 36VDC.

The VT190RWP2 widescreen marine monitor can be used in a number of maritime environments and workflows. It can serve in sonar and underwater imaging, radar for vessel navigation, open cockpits, camera and video systems, fly bridges, pilot houses and cabins.     

VarTech Systems Inc. is an ISO 9001 registered company specializing in the manufacturing of military, marine and industrial grade displays and computer workstations. For more information on the VT190RWP2 nautical monitor display or Vartech's complete line of PowerVue series marine monitors, please visit http://www.vartechsystems.com/products/powervue/default.asp.