Wireless System enables full-duplex encrypted communication.
Press Release Summary: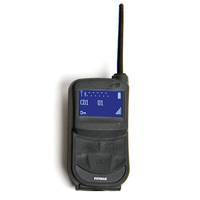 June 17, 2009 - Intended for small teams of mobile professionals, Condor System is comprised of palm-sized radio unit, discrete under-the-shirt wiring, and user's choice of Phonak headset. License-free system allows up to 6 colleagues to communicate at distances up to 800 m in full-duplex mode while additional colleagues listen in via same closed network. Condor does not require base station and is therefore 100% mobile.
Original Press Release
Mobile Team Communications Set to Soar as Condor Takes Flight
Press release date: June 3, 2009
Phonak Communications launches world's first full-duplex encrypted wireless system, providing small covert and special operations teams with the ultimate in communication flexibility Murten, Switzerland - June 3, 2009 -- The Condor system is a highly durable, license-free all-in-one communication solution. Usable straight out of the box, it comprises a palm-sized and easy-to-wear radio unit, discrete under-the-shirt wiring, and the user's choice of Phonak market-leading headsets. Condor liberates small teams of mobile professionals by allowing up to six colleagues to communicate in full-duplex mode (simultaneously talking and listening), and additional colleagues can also listen in via the same closed network; all of this over a secure encrypted channel. Essentially for mobile teams, Condor does not require connection to a base station and is therefore 100% mobile. It utilizes only free-to-use frequencies so no licenses are required, making Condor instantly usable whatever the place of operation. Small, light, and comfortable to wear, Condor is flexible enough to perform in all kinds of situations: users can communicate at distances of up to 800m; the system is quick to configure with simple pairing and no PC required; and team leaders can quickly and easily create the user-defined networks they require for operational success. "The Condor system takes covert and special team communications to the next level", said Evert Dijkstra, Managing Director of Phonak Communications. "One hundred percent mobile, completely secure, and usable without a base station, Condor ensures that mobile teams no longer need rely on a mish-mash of technologies. Instead they can employ this flexible system and concentrate on what really matters - achieving operational success." Condor is available immediately from Phonak distributors (http://www.phonak-communications.com/en/security/distributors/). About Phonak Communications
Phonak Communications AG, a subsidiary of the Sonova Group (http://www.sonova.com), has been specializing in the development, design, production and distribution worldwide of ultra miniaturized wireless systems since 1992. By combining its expertise in hearing technology with ongoing research at the highest level, Phonak Communications AG has succeeded in making substantial advances in the field of wireless communication systems from its development and production base in Switzerland. For more information, please visit
www.phonak-communications.com
Contact Information
Matthew Wade
Phonak Communications
www.phonak-communications.com
+41 (0)26 672 92 85 Fabienne Kaupert
Phonak Communications
www.phonak-communications.com
+41 (0)26 672 96 30