Product News: Communication Systems & Equipment
Wireless Charging/NFC Reference Design is automotive ready.
Press Release Summary: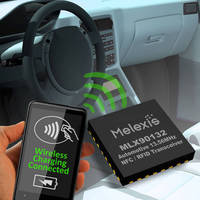 September 3, 2014 - Built around MLX90132 NFC Transceiver IC and Freescale MWCT1003AVLH controller IC, WCT-5WTXAUTO initially targets automotive console applications. Solution includes all required hardware and associated software drivers to allow fully autonomous behavior of wireless charging subsystem as controlled via NCI (NFC Controller Interface). Automotive-grade NFC transceiver with Freescale Semiconductor wireless charging technology could eliminate low battery warning.
Original Press Release
Melexis Launches Automotive Ready Wireless Charging and NFC Reference Design with Freescale
Press release date: August 27, 2014
Tessenderlo, Belgium – Wireless charging promises consumers a new level of convenience for maintaining readiness of mission critical and lifestyle enhancing communication tools. Low battery warnings are never welcome but seem ever present with the increasing reliance on portable electronics in our personal and professional lives. Combining the automotive grade NFC (Near Field Communication) transceiver of Melexis with Freescale Semiconductor's wireless charging technology enables a ready to use reference design solution that could free us from the dreaded low battery warning.
In the recent times the NFC standard for secure, short range communication for point of purchase and access control has gained a strong and growing position in mobile handsets. Melexis has pioneered this technology for Entry-and-Go and PKE (Passive Keyless Entry) solutions in cars with introduction of its MLX90132 NFC transceiver IC. The uptake of wireless charging is accelerating rapidly. The WCT-5WTXAUTO reference design developed jointly by Melexis and Freescale brings together the best attributes in both technologies. Melexis works with automotive Tier suppliers for the integration and deployment of NFC solutions in cars for applications such as, automatic pairing of mobile devices to the media center (e.g. Wi-Fi or Bluetooth technologies) and automatic identification of the User and download of personal settings. NFC technology can also be used for access control and start, to allow NFC enabled handsets to be the "key" to enter and drive away an automobile. With this reliance on a wireless lifestyle it is more critical than ever that the enabling device, a smartphone or tablet, be kept in a state of maximum charge. Wireless charging deployed in homes, cars, businesses and public spaces is the clear solution. Bringing both wireless charging and NFC together enable new capabilities and conveniences,
The initial target for this reference design is automotive console applications. The stringent requirements of any electronic system deployed in the passenger compartment include EMC, RFI and EMI at a number of frequency bands and power levels. The joint reference design of Melexis and Freescale demonstrates the successful possibility to achieve a road worthy result. This design is built around the MLX90132 NFC Transceiver IC of Melexis and the MWCT1003AVLH controller IC from Freescale.
The reference design includes all the required hardware and associated software drivers to allow a fully autonomous behavior of the wireless charging subsystem, controlled via a standard compliant NCI (NFC Controller Interface). The co-existence is managed on the hardware side through a careful antenna design and on the software side via dedicated control interface.  The system can either run in fully autonomous way or be driven by standard compliant upper NFC software stacks (e.g. NFCStack+ from Stollmann).
Beyond the automotive environment, the reference design is perfectly suited for very wide variety of side markets relying on personal handsets, where a combination of secure identification and payment combined with battery charging is required. This includes, for example, information and advertisement booths in waiting lounges, restaurants and wireless docking stations.
To learn more about the reference design visit
www.melexis.com/NFCWirelessChargingRefDesign
For ordering information on the reference design, please go to: 
www.freescale.com/wct-5wtxauto
For more information about Freescale wireless charging solutions, please go to: 
www.freescale.com/wirelesscharging
For specific details on the MLX90132 visit
www.melexis.com/mlx90132
.
Contact Melexis
Marketing Communications
Peter Riendeau
Melexis Inc
15 Trafalgar Sq., Ste. 100
Nashua, NH 03063
USA
Tel: 603-204-2900
Fax: 603 578-1270
pre@melexis.com
Sales
Susan Brocious
Melexis Inc
15 Trafalgar Sq., Ste. 100
Nashua, NH 03063
USA
Tel: 603-204-2900
Fax: 603 578-1270
sbr@melexis.com
About Melexis
Melexis Microelectronic Integrated Systems N.V. (Euronext Brussels:MELE) imagines, creates and delivers innovative mixed signal integrated circuits. Melexis ICs are driving green solutions that enable our customers to bring more energy efficient automotive systems to market. Melexis product portfolio addresses 4 classes of ICs; Sensor, Optoelectronic, Wireless and Actuators. Sensors include magnetic, MEMS, and sensor interface ICs. Optoelectronic products encompass linear arrays, single point sensors, infrared thermometers and CMOS wide dynamic range and night vision cameras. Wireless ICs focus on RKE, TPMS, ISM band applications, NFC, RFID reader and smart tag solutions. Actuator ICs cover LIN and CAN bus networking ICs and advanced BLDC motor driver technology. Melexis is proud of its participation toward reducing the human race's global environmental footprint.
For more information visit
www.melexis.com
Issued by:
Mike Green
Pinnacle Marketing Communications Ltd
Tel: +44 208 4296 543
E-mail:
m.green@pinnaclemarcom.com
Web:
www.pinnacle-marketing.com