Product News: Electrical Equipment & Systems
Wideband Miniature Transformers meet NASA low-outgassing specs.
Press Release Summary: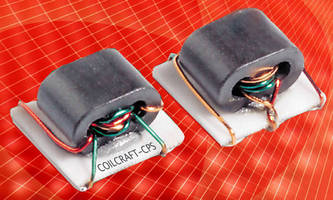 November 8, 2012 - Accommodating critical applications that require miniature ferrite-core transformers, AE458RFW Series features open design, SMT devices tested to meet or exceed NASA low-outgassing specifications. Current capacity is 250 mA, dimensions are 4.19 x 4.55 x 3.05 mm, and tap configurations include basic 4 lead, 5 lead with secondary center tap, and 6 lead with primary and secondary center taps. Full-rated operational range is -55 to +155°C, with unlimited floor life at less than 30°/85% RH.
Original Press Release
Wideband Miniature Transformers Meet NASA Low Outgassing Specifications
Press release date: October 22, 2012
For aerospace and other ultra-critical applications requiring miniature ferrite-core transformers, Coilcraft CPS has introduced the new AE458RFW Series.  These robust, open design surface mount transformers are specially designed and tested to meet or exceed NASA's demanding low-outgassing specifications.  With 300V inter-winding isolation and ¼ watt RF input power capability, they are well suited to a broad range of applications.

The Coilcraft CPS AE458RFW Series offers a full-rated operational temperature range of -55 to +155°C, with unlimited floor life at <30°/85% relative humidity. Additional benefits include high current capacity (250mA), low DC resistance and ceramic base.  The footprint is just 4.19x4.55 mm, with a height of 3.05mm.

Three tap configurations are available: basic 4 lead, 5 lead with a secondary center tap and 6 lead with primary and secondary center taps. Impedance ratios vary from 1:1 to 1:16, depending of frequency range and configuration.  Leach resistant terminations are tin-lead (63/37) with other coatings available.  This design ensures best possible board adhesion.

Like other Coilcraft CPS products, AE458RFW Series inductors are designed, manufactured and tested to ensure their suitability for mission-critical applications and for use in the most adverse environmental conditions. 

AE458RFW transformers are available with 30-day delivery. 
Learn more: www.coilcraft-cps.com.  Coilcraft Critical Products and Services,
1102 Silver Lake Road, Cary IL 60013 USA  +1-847-639-2361, 
Fax +1-847-639-1469,  E-mail: cps@coilcraft.com

Link to Complete Datasheet: http://www.coilcraft-cps.com/pdf/ae458rfw.pdf