Product News: Test & Measuring Instruments
Wi-Fi Data Loggers track temperatures from -4 to +140°F.
Press Release Summary: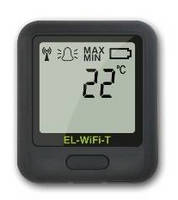 January 22, 2013 - With internal sensor, EL-Wifi-T continually monitors ambient temperature and transmits values via Wi-Fi network to PC for viewing/export. LCD shows Max and Min readings along with Low Battery and Wi-Fi connection status, and any alarm breach is instantly registered on device and PC screen. If sensor loses network connectivity, this IP55-rated, USB-enabled logger with internal lithium polymer battery continues taking readings until able to communicate with PC application.
Original Press Release
Track Your Temperatures with New Low-Cost WiFi Data Loggers
Press release date: January 21, 2013
New Temperature Monitoring and Alarming from CAS DataLoggers
CHESTERLAND OH
CAS DataLoggers and Lascar are constantly developing new data logging solutions for temperature monitoring and alarming applications in industry and research, and have just released their latest advance—the EL-Wifi-T WiFi Temperature Sensor. These compact data loggers feature a built-in temperature sensor with WiFi capability and integrated display. Every product in the EasyLog USB data logger range features the direct-to-USB connection and easy-to-use functionality that the range is known for. CAS DataLoggers offers these stand-alone solutions at a low price which fits into any company or organization's budget.
Low-Cost Ambient Temperature Monitoring and Alarming:
The EL-WiFi-T datalogger's internal sensor continually monitors ambient temperature across a -20 to +60°C (-4 to +140°F) measurement range and transmits this data wirelessly via a WiFi network to a PC where it is viewable via the graphing tool or export to Excel.
The sensor's fully featured LCD segment display shows Max & Min readings along with Low Battery and WiFi connection indicators. The data logger can stand by itself on horizontal surfaces and also clips into the included wall bracket that can be screwed onto any wall or flat surface.
These WiFi dataloggers feature low-powered operation, running on a rechargeable internal lithium polymer battery. When configured using typical sampling rates (for example once every 5 minutes) the sensor will keep logging for over a year. The battery can then be recharged via PC or USB +5V wall adapter using the data logger's USB port and the USB lead provided. These data loggers are also 802.11b compliant with a protection rating of IP55.
Wireless connectivity to PC via WiFi:
Our Lascar WiFi loggers automatically communicate their data back to a PC using the Wi-Fi network, instantly registering any alarm breaches on both the device and the PC screen. They make it easy to setup high and low alarms to alert you the moment that your temperature goes out of specification.
During configuration, the sensor searches for an existing wireless network while physically connected to the PC, and you can then place it anywhere within range of the network. Even if the sensor temporarily loses connectivity with the network, the data logger will keep taking readings until it is able to communicate again with the PC application (max 120 days at 10-second sample intervals). It's easy to increase the sensor's range by using WiFi extenders.
FREE Software to View and Graph Data:
The FREE software installed on the PC allows easy sensor setup, data logging and data review. Setup features include sensor name, your choice of logging in either °C or °F, sample rate, and high/low alarms. This software is available to download free of charge from the manufacturer's website, and you can also view and analyze multiple sensors including immediate graphing of all historic data.
For more information on our new low-cost WiFi Temperature Sensor, additional models in the Lascar EasyLog range, or to find the ideal solution for your specific project, contact a CAS DataLogger Applications Specialist at (800) 956-4437 for application specific recommendations or visit
www.DataLoggerInc.com
.
Contact Information: CAS DataLoggers, Inc.
12628 Chillicothe Road Chesterland, Ohio 44026
(440) 729-2570
(800) 956-4437
sales@dataloggerinc.com
www.dataloggerinc.com