Product News: Computer Hardware & Peripherals
Wi-Fi Controllers add internet connectivity to equipment.
Press Release Summary: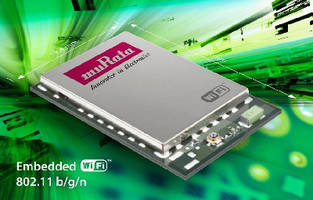 February 5, 2013 - Utilizing Broadcom's Wireless Internet Connectivity for Embedded Devices architecture, SN8200 Series delivers 2.4 GHz 802.11b/g/n internet connectivity to home appliances, industrial machines, and healthcare equipment. Self-contained modules are equipped with STM32 ARM Cortex-M3, onboard antenna, and ability to offer UART or SPI connectivity to host application. Operating in access point or station mode, units feature typical output power of +18 dBm when operating in 802.11b mode at 11 Mbps.
Murata Power Solutions - Mansfield, MA
Original Press Release
Compact Dual Mode Wi-Fi Network Controller Module Ideal for Adding Internet Connectivity to Home Appliances
Press release date: January 1, 2013
Hoofddorp, Netherlands: Murata today announced the SN8200 series of compact low power certified Wi-Fi controller modules capable of providing 2.4 GHz 802.11b/g/n internet connectivity to a broad host of home appliances, industrial automation machines and healthcare equipment. The self-contained module utilizes Broadcom Corporation's Wireless Internet Connectivity for Embedded Devices (WICED) architecture to provide comprehensive firmware and software features including a built-in Wi-Fi security supplicant supporting WPA PSK and WPA2 PSK, TCP/IP network stack and a simple network interface card (SNIC) protocol that supports socket connections.
Measuring just 30.5 x 19.4 x 2.9 mm, the SN8200 module is certified to FCC, IC and ETSI wireless standards and is equipped with a STM32 ARM Cortex-M3, an on-board antenna and offers both UART or SPI connectivity to the host application. The ability to support sensor applications is also possible by using the module's ADC, DAC, I2C and GPIO interfaces.
The SN8200 can operate in either access point (AP) or station (STA) mode. An integrated web server available in AP mode makes target device setup and control extremely easy. Output power is typically +18 dBm when operating in 802.11b mode at 11 Mbps.
The module is ideal for end-product designers wishing to quickly design-in internet connectivity to their product without needing to become involved in designing and certifying their own Wi-Fi transceiver. Using this approach a designer can rapidly add an internet-based control and reporting capability to any smart home appliance or industrial control equipment.
For further information and reader enquiries:
Aya Tonooka, Murata Europe Limited. Oak House, Ancells Road, Ancells Business Park, Fleet, Hampshire  GU51 2QW , United Kingdom
Tel: +44 (0) 1252 811666  E-mail: atonooka@murata.co.uk
Fax:  +44 (0) 1252 811777  Web:
www.murata.eu
About Murata
Murata is a leading manufacturer of electronic components, modules, and devices. The complete range of this Technology house includes ceramic capacitors, resistors/thermistors, inductors/chokes, ceramic resonators, buzzers, sensors and EMI suppression filters. Whilst the company gets the majority of its revenue from its ceramic capacitor products, it is also the world leader in Bluetooth® & WiFi™ Modules,  the world's no.1 manufacturer of board-mount DC-DC converters and is a key manufacturer of standard and custom AC-DC power supplies. Murata also designs and manufactures mobile handset antenna families, piezoelectric actuators for fuel injection systems, short focal length ceramic lenses and speaker products.
Established in 1944, Murata is headquartered in Japan and has European offices in Germany, the Netherlands, the UK, Switzerland, Italy, France, Spain, Denmark, Sweden, Finland and Hungary.
For more information on Murata, please visit:
www.murata.eu
. You can also follow us on Twitter @MurataEurope or LinkedIn
www.linkedin.com/company/murata-electronics,
or join us on Facebook at
www.facebook.com/MurataElectronics
.