Product News: Cleaning Products & Equipment
Wet Steam Gum Removal Power Washers utilize propane heating.
Press Release Summary: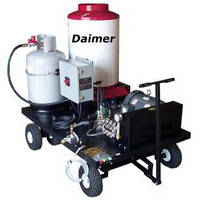 June 5, 2012 - Used to remove gum deposits from stone/concrete, mobile Super Max(TM) 12300 series can be wheel- or trailer-mounted, supports multi-gun option for simultaneous users, and produces as much as 3,000 psi with 10.0 hp NEMA heavy-duty motor. Each 3-phase, 60 Hz machine uses direct spark ignition, comes with one power cord, and supports 5.0 gpm flow rates for high-volume applications. Other features include shaft-driven water pump, multiple temperature mode, and 330°F wet steam cleaning.
Original Press Release
Gum Removal Power Washers Heated with Propane
Press release date: June 4, 2012
Woburn, MA U.S.A - Daimer Industries®, established abroad and domestically for high-performance power washers, has now shipped its highest pressure Super Max(TM) wet steam gum removal machines. The new 12300 series is designed to remove large volumes of gum deposits from stone/concrete surfaces, such as playgrounds, sidewalks, flooring and driveways.
'The mobile 12300 series offers the highest pressure to date in Super Max(TM) line of gum removal power washers,' communicated Daimer.com gum systems media manager Matthew Baratta. 'These newest machines target for facilities and grounds common in educational, governmental and retails.'
Gum Removal Power Washers Daimer® had each Super Max(TM) 12300 designed to offer high pressure and portability. The systems are on wheel-mounted but can be also trailer mounted. The machines support a multi-gun option for simultaneous users.
The gum removal pressure washers can produce as much as 3000 psi with a 10.0 HP NEMA heavy-duty motor. The three phase, 60 Hz machines come with one power cord. The shaft driven water pumps are protected by a 5-year Daimer® guarantee.
The newest gum removal power washers support 5.0 GPM flow rates for the extreme high-volume applications. The multiple temperature mode pressure washers support 330ºF wet steam cleaning that targets gum removal jobs. The propane heated machines use a direct spark ignition and come with a 50-lb propane tank (empty).
For indoor and water-sensitive applications, Daimer® also offer a line of KleenJet® brand dry steam gum removal machines.
For More Information Additional information about Daimer chewing gum removal systems, gum removal pressure washers and steam cleaners, can be obtained at
www.Daimer.com/wet-steam-chewing-gum-removal-machines
or by calling Matthew Baratta at (888) 507-2220. The systems are available in most countries. Minimal orders may apply.
About Daimer Industries Inc.®: Daimer®,
www.daimer.com
, is a major supplier and worldwide exporter of the industry's leading line of KleenJet® vapor steam cleaners and gum remover systems; XTreme Power® carpet cleaners, hard surface cleaning machines, floor buffers/scrubbers/burnishers; as well as Super Max(TM) and Vapor-Flo® pressure washers.
Contact: Matthew Baratta, Daimer Industries, Inc.® 16 Tower Office Park Woburn, MA 01801
www.daimer.com
/
www.facebook.com/DaimerInc
twitter.com/daimer_inc
pinterest.com/daimerinc/
matt@daimer.com (888) 507-2220