Product News: Materials & Material Processing
Welding Wire suits shipbuilding and general fabrication.
Press Release Summary: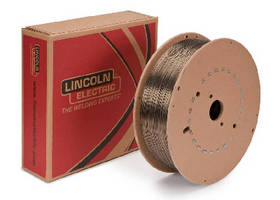 June 11, 2012 - Delivering flat bead face when used in all positions, UltraCore® HD-M is 75% Argon/25% CO2 gas-shielded flux-cored wire that features fast freezing slag and provides deposition rates of more than 10 lb/hr. Wire is available in 15, 33, and 50 lb packages and in standard diameters of .045, .052, and 1/16 in. UltraCore® HD-M conforms to AWS A5.20/A5.20M: E71T-1M/9M-H8 classification and is ABS approved to 3YSA H10.
Original Press Release
Lincoln Electric Introduces UltraCore® HD-M: a New Gas-Shielded, Flux-Cored Welding Wire for Shipbuilding and General Fabrication Applications
Press release date: May 29, 2012
Cleveland - Lincoln Electric introduces the new UltraCore® HD-M flux-cored wire.This 75% Argon / 25% CO2 gas-shielded flux-cored (FCAW-G) wire was designed to provide the high deposition rates and flat bead appearance required in many out-of-position applications. It features premium arc performance and fast freezing slag. Key Features:
o High deposition rates - More than 10 lbs./hr. out-of-position
o Fast freezing slag for a flat bead shape and increased productivity in all positions, including vertical up and overhead
o Wide operating range allows operators to set the machine on a single setting and weld in all positions. UltraCore® HD-M wire meets the most demanding requirements for shipbuilding and general fabrication industries. With high deposition rates and a broad operating range, this flux-cored wire is capable of delivering a flat bead face when used in all positions. This flux-cored wire conforms to AWS A5.20/A5.20M: E71T-1M / 9M-H8 classification and is ABS approved to 3YSA H10. Available in 15 lb., 33 lb., and 50 lb. packages, UltraCore® HD-M wire comes in standard diameters of .045, .052 and 1/16 inches. UltraCore® HD-M compliments its counterpart UltraCore® HD-C, a mild steel FCAW-G wire designed to use with 100% CO2 for a flat bead appearance. To request a copy of Lincoln Electric's UltraCore® HD-M product literature, call (888) 355-3213 or visit
www.lincolnelectric.com
to obtain bulletin C3.12.16. The Lincoln Electric Company, headquartered in Cleveland, Ohio, is the world leader in the design, development and manufacture of arc welding products, robotic arc welding systems, fume extraction equipment and plasma and oxyfuel cutting equipment. The company holds a leading global position in the brazing and soldering alloys market. Media Contacts: Greg Coleman - Greg_Coleman@lincolnelectric.com or 216.383.2462