Weighing Module operates in explosive atmospheres.
Press Release Summary: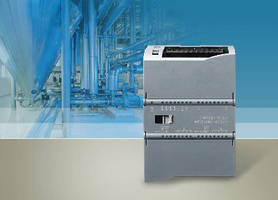 December 5, 2012 - Integrating with Simatic S7-1200 control, Siwarex WP231 is suitable for monitoring filling levels in silos and bins and for use with goods being weighed on platform scales. Ethernet connections and RS485 RTU interface with Modbus protocol enable module to be operated from Modbus HMI panel without being connected to control. Equipped with 4 digital I/O and 1 analog output, module provides 1 million parts resolution and measurement cycle of 10 ms.
Original Press Release
Siemens Presents Its Versatile Weighing Module for Simatic Control S7-1200
Press release date: November 1, 2012
Siemens Industry Automation Division is launching a versatile weighing module for the Simatic S7-1200. Siwarex WP231 is the first weighing module for this control and is suitable for monitoring filling levels in silos and bins and for use with goods being weighed on platform scales. The new model is intended for industries requiring a high level of measurement accuracy, such as the food and beverage, pharmaceutical and chemical industries. Furthermore it is suitable for use in explosive atmospheres. Ethernet connections and an RS485 RTU interface with Modbus protocol enable it to be operated from a Modbus HMI panel without being connected to the Simatic S7-1200 control.

Siemens' new Siwarex WP231 weighing module can be fully integrated into the Simatic S7-1200 control, and its parameters can be quickly and easily set via the TIA Portal engineering platform. The module has four digital inputs and outputs and one analog output. The Siwarex WP231 can be connected to various systems and operator panels via an Ethernet or RS485 interface with Modbus protocol and can be operated independently from the Simatic S7-1200 ("stand-alone capability"). This makes it possible for the module to be used in various applications. In addition, the module can be operated directly from a Modbus HMI panel in the event of failure of the control unit.

Whether operating in stand-alone mode or in combination with the Simatic S7-1200, the Siwarex WP231 offers a wide range of settings for parameters and alarm management, thus enhancing process efficiency. Users can define specific limit values and different parameters for the various individual outputs. Additional diagnostic functions, such as the documenting of weight and various process parameter readings (Trace), make for greater transparency and facilitate the commissioning and maintenance of the module.

Due to its high resolution – one million parts – and a measurement cycle of 10 milliseconds, the Siwarex WP231 is able to measure with a high degree of accuracy. Clear menus mean that the weighing module is easy to operate, whether in conjunction with the Simatic S7-1200 or via a directly connected HMI panel. Moreover, thanks to its automatic set-up function, the measuring system is ready to use within only a few minutes.

Further information is available at: http://www.siemens.com/wp231

Reader enquiries should bear the reference "IA 2916" and be addressed to:
Siemens Industry Automation, Infoservice, Postfach 23 48, D-90713 Fürth
Fax: + 49 911 978 3321 or email: infoservice@siemens.com

This versatile Siwarex WP231 weighing module from Siemens Industry Automation Division can be fully integrated into the Simatic S7-1200 or connected to and operated from a Modbus HMI panel.

Media Relations: Peter Jefimiec
Telefon: +49 911 895-7975
E-Mail: peter.jefimiec@siemens.com
Siemens AG
Industry Sector - Industry Automation Division
Gleiwitzerstr. 555, 90475 Nürnberg

Press information sheets from Siemens Industry Automation Division can also be obtained in electronic form. Please contact us by email.

The Siemens Industry Automation Division (Nuremberg, Germany) supports the entire value chain of its industrial customers – from product design to production and services – with an unmatched combination of automation technology, industrial control technology, and industrial software. With its software solutions, the Division can shorten the time-to-market of new products by up to 50 percent. Industry Automation comprises five Business Units: Industrial Automation Systems, Control Components and Systems Engineering, Sensors and Communications, Siemens PLM Software, and Water Technologies. For more information, visit http://www.siemens.com/industryautomation

The Siemens Industry Sector (Erlangen, Germany) is the world's leading supplier of innovative and environmentally friendly products and solutions for industrial customers. With end-to-end automation technology and industrial software, solid vertical-market expertise, and technology-based services, the Sector enhances its customers' productivity, efficiency, and flexibility. With a global workforce of more than 100,000 employees, the Industry Sector comprises the Divisions Industry Automation, Drive Technologies and Customer Services as well as the Business Unit Metals Technologies. For more information, visit http://www.siemens.com/industry