Product News: Waste Management & Waste Handling Equipment
Water Purification System suits Life Science applications.
Press Release Summary: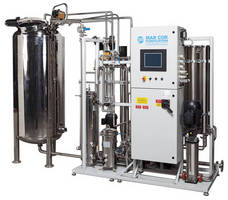 November 12, 2012 - Featuring pre-programmed distribution loop components, water purification systems are available in standard configurations from 2.5-10 gpm. Design includes distribution process and satisfies needs of most Bio-Pharma applications. Generation, storage, and delivery systems are hot water-sanitizable, and base unit is suited for pre treatment for Still or Pure Steam Generator. For USP Grade Purified Water system, optional EDI or Service DI with final filter can be added.
Original Press Release
Mar Cor Purification Announces the Launch of the VPure 4400H Water Systems for Life Science Applications
Press release date: September 22, 2010
...New line Includes Pre-Programmed Hot Water Sanitization and Distribution Lowell, MA - Mar Cor announced today that it has introduced a new line of standard water purification systems designed for use in the Life Science Marketplace. These units are unique due to the pre-designed and pre-programmed distribution loop components resulting in a total across the board reduction in capital, operating and installation costs. The systems are available in standard configurations from 2.5 to 10 gallons per minute of product water. According to Ben Roczniak, VP Sales for Mar Cor Life Science, " these units are a first for Life Science, where the design includes the distribution process and the generation, storage & delivery systems are HOT water sanitizable. The base unit is ideal for pre treatment for a Still or Pure Steam Generator. For USP Grade Purified Water system, just add the optional EDI or Service DI with final filter in order to meet conductivity requirements. This unit satisfies the needs of most Bio-Pharma applications at an attractive price point without compromising quality or regulatory concerns. The design provides for much faster installations, thereby saving time and cost. I would encourage anyone who is looking to source a basic USP water system, to include the VPure line" The Mar Cor Life Science Group has been serving the water purification marketplace for over 35 years and has over 1000 installations in North America in demanding applications such as pharmaceutical, food & beverage and dialysis and has one of the largest water treatment related technical and field support networks to support our installed systems. Other water system products include the USPure, single skid system for USP Purified Water applications. The filtration products include unique FiberFlo® hollow fiber membrane filters designed to protect products and processes from bacterial and endotoxin contamination. Minncare® Cold Sterilant is ideal for water and process system sanitization and is also used with our proprietary Minncare Dry Fog® and Mini-Fog(TM) Systems. Actril® Cold Sterilant is a sporicidal surface disinfectant that is used in critical surface disinfection applications. About Mar Cor Purification Mar Cor Purification, a wholly owned subsidiary of Cantel Medical Corp. (NYSE:CMN), has service offices in 20 cities in the US and Canada with seven ion exchange resin regeneration plants strategically located in Atlanta, Boston, Chicago, Philadelphia, San Antonio, Montreal and Toronto. Mar Cor Purification has representatives located throughout the world to provide sales and technical support. We offer support with design engineering capabilities, 24/7 service coverage, field application sales, experienced service technicians, and a fleet of stocked service vehicles. Mar Cor Purification is dedicated to providing innovative solutions through filtration, water, and disinfection technologies. Visit our website at
www.mcpur.com
. About Cantel Medical Cantel Medical Corp. is a leading provider of infection prevention and control products in the healthcare market. Our products include specialized medical device reprocessing systems for renal dialysis and endoscopy, dialysate concentrates and other dialysis supplies, disposable infection control products primarily for the dental industry, water purification equipment, sterilants, disinfectants and cleaners, hollow fiber membrane filtration and separation products for medical and non-medical applications, and specialty packaging for infectious and biological specimens. We also provide technical maintenance for our products and offer compliance training services for the transport of infectious and biological specimens. For further information, visit the Cantel website at
www.cantelmedical.com
. Actril® Cold Sterilant is a registered trademark of Minntech Corporation and is an US-EPA registered product (52252-7). Minncare® Cold Sterilant is a registered trademark of Minntech Corporation and is an US-EPA registered product (52252-4). FiberFlo® is a registered trademark of Minntech Corporation. Minncare Dry Fog® is a registered trademark of Minntech Corporation and Mini-Fog(TM) System is a trademark of Minntech Corporation. Contact information: Christopher Fournier cfournier@mcpur.com Vice President Marketing Mar Cor Purification Phone: 978-453-9600