Water-Free Lubricant increases glass line safety, efficacy.
Press Release Summary: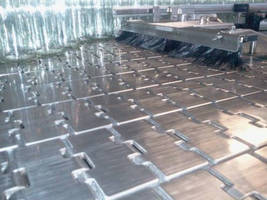 September 18, 2012 - Based on natural materials from renewable sources, GlassLube2.0 is used for high-speed packaging of glass bottles on stainless steel. Product ensures optimal glide and friction characteristics without adversely impacting packaging quality or conveyor hygiene. This 100% water-, PTFE-, and silicone-free solution reduces water and power consumption and motor temperatures while increasing safety and conveyor belt life. Reduced processing and effluent impact lend to carbon footprint reduction.
Original Press Release
GlassLube2.0 - the Breakthrough in Water-Free Lubrication for Glass Lines
Press release date: September 10, 2012
EDINBURGH, Scotland -- Food and Beverage manufacturers running Dry Lube's latest product innovation, GlassLube2.0, rate it as the most effective solution in the market for high speed packaging of glass bottles on stainless steel. Based on natural materials from renewable sources, GlassLube2.0 offers amongst others substantial benefits in hygiene, efficiency, water & power consumption.

Dry lubrication has revolutionized the food and beverage industry by offering a product solution that completely eradicates lubrication of packaging lines with soap and water. It has helped many international companies to significantly reduce their water footprint, improve operational efficiency and create a safe work environment. Dry Lube's new and improved GlassLube 2.0 is now shaping a new era of lubrication.

Operational performance - A new era takes shape

Overcoming the challenges of material hardness and surface finish of glass containers, GlassLube 2.0 ensures optimum glide and friction characteristics with no adverse impact on your packaging quality or conveyor hygiene.

The sustainably sourced GlassLube 2.0 is 100% Water, PTFE and silicone free, making it your optimal choice for sustainable and effective operations.

Outstanding results have been achieved:

- Better hygiene
- Improved efficiency
- Decreased motor temperatures
- Decreased power consumption
- Extended conveyor belt life
- Reduced water consumption
- Improved Safety

Results achieved at a trial in a leading brewery in South America, where 63,000 bottles are produced per hour:

- Efficiency improved by 15%
- Motor temperatures dropped by 7%
- 9.6 Million litres of water are being saved each year

Water - scarce, cheap & wasted

- It takes 2000 - 4000 litres of water to produce the daily food requirements of one person[1]
- By the year 2025, two-thirds of the world's population could be facing serious problems with water availability[2]

As worries about water use is move up the global agenda food & beverage companies are becoming the high-visibility example of a thirsty industry.

This development could represent a major challenge to the industry. If water is scarce and people perceive that companies are big users of water, this may become a reputational risk. Another more direct risk is that local authorities could shut of supplies to foreign investment firms or sharply raise the price of water.

You can close the tap now!

GlassLube 2.0 cuts your water usage and effluent disposal from the lubricant process by 99%. Sourced from natural materials, the lube is completely water, PTFE and silicone free, making it the most sustainable lubricant in the market.

At a leading brewery in South America, where 63.000 bottles are produced per hour is estimated to save 9 Million litres of water per year on one of its bottling lines with the help of GlassLube 2.0.

CO2 emissions - Stop global warming

- Heavy downpours, rising temperature and sea level, rapidly retreating glaciers, thawing permafrost, lengthening growing seasons, lengthening ice-free seasons in the ocean and on lakes and rivers, earlier snowmelt, and alterations in river flows will increase[3]

GlassLube2.0 will reduce your carbon footprint through its significantly reduced processing and effluent impact in comparison with traditional alternatives.

The carbon footprint of Europe's largest soft drinks manufacturing site has been reduced by approximately 200 tonnes of CO2 following the switch to Dry Lube.

Energy - once a powerful story

- Prices for industrial consumers in the EU-27 increased on average by 5.0% for electricity and 12.6% for natural gas between 2010 and 2011.[4]

Results have shown that Dry Lube reduces conveyor electrical power by over 7% of on stainless steel belts.

At a leading Cider producer in the UK, approximately 5400 kWh of energy are saved per year at only one of its glass lines.

Safety - Don't risk second rate

- Slips and trips injuries comprise 35% of 'major' injuries in the food and drink industries[5]
- Most slips (90%) occur when the floor is wet with water or contaminated with food product[5]

The injury rate in the food and drink industry is above the average for all manufacturing industries. The cost associated to injuries/ lost time accidents is significant.

GlassLube 2.0 leaves no water/ lubricant on the floor. This significantly reduces slip hazards. Dry Lube Ltd has a proven track record of Zero lost time accidents resulting from lubrication.

"Dry lubrication has not only cut water use but has also cut water treatment costs, increased the lifespan of conveyors, and improved the safety levels on the factory floor"!
Interview with Coca Cola Enterprises Wakefield, Beverage Innovation, September 2011.

1. http://www.unwater.org/statistics.html

2. http://wwf.panda.org/about_our_earth/about_freshwater/freshwater_problems

3. http://www.epa.gov/climatechange/ghgemissions/gases/co2.html

4. http://epp.eurostat.ec.europa.eu/statistics_explained/index.php/Electricity_production_and_supply_statistics

5. http://www.hse.gov.uk/food/slips.htm

       
Contact:
Julia Heyse
Dry Lube Ltd
+44-131-240-1292
enquiries@drylube.co.uk