Product News: Electrical Equipment & Systems
Wallplate Connectors reduce signal loss of coaxial cable.
Press Release Summary: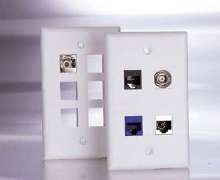 April 30, 2003 - RJAX 6040 75 ohm Termination Keystone Connectors provide snap-in connections with RJ-style plug, similar to that used on telephone lines. Self-terminating units prevent ingress and egress of RFI, eliminating signal degradation and undesired emissions. Quick and easy mating and unmating allows equipment and furniture to be arranged and rearranged easily. Applications include TVs, VCRs, home entertainment system controllers, DVD players, and satellite receivers.
Original Press Release
Revotech Introduces Snap-In Coax RJAX 6040 75-OHM Self-Terminating Wallplate Connectors. RJAX 6040 Reduces Signal Loss and Improves Integrity of Coaxial Cable Installations.
Press release date: March 6, 2003
Revotech Industries International Enhances Coaxial Connections with RJAX 6040 75-ohm Termination Keystone Connectors for Wallplates. RJAX technology Provides Snap-In Coaxial Cable Connections with an "RJ Style" Plug Similar to that used on Telephone Lines. Los Angeles, CA, March 6, 2003 - Revotech announces the release of the new RJAX 6040, 75-ohm self-terminating wallplate connector. Current, non-terminated cable installations result in substantial signal reflections and RF noise feedback. RJAX 6040 terminates the coax line reducing signal loss and preventing emission feedback from contaminating the cable provider's main systems. Benefits o Termination: - Prevents ingress RFI, eliminating signal degradation - Prevents egress RFI, eliminating undesired emissions - Improves Signal-to-Noise Ratio (SNR) - Minimizes reflected voltage, which can be twice the line voltage with no termination Self-Terminating Keystone Wallplate Connectors Un-terminated cable or transmission lines, or those terminated inconsistent with the characteristic impedance of the cable, reflect energy. VSWR and signal reflections reduce both signal quality and signal to noise ratio (SNR), particularly at higher frequencies such as those of broadband digital, broadcast video or high-resolution computer graphics. RJAX self-terminating wall plate consistently and correctly terminates the 75-ohm video cable, delivering maximum signal and highest picture quality. Terminated connectors are not available for F-connections in the typical home environment. Open, or un-terminated F-connector wall plates, cause picture quality degradation of other attached devices in the network such as TVs, VCRs, home entertainment system controllers, DVD players and satellite receivers. RJAX 6040 solves this problem. Unused RJAX 6040 wall plates self terminate, maintaining maximum signal integrity and preserving signal quality. RJAX's 6040 precision 75-ohm connector greatly exceeds (by 20 to 30 dB) other commercial terminators, including those with a .1% tolerance rating. RJAX 6040 offers 75-ohm termination and VSWR performance previously found only in test lab precision terminators costing hundreds of dollars. RJAX 6040 Self-Terminating Wallplates Benefit Both Cable Customers and Providers Most modern home construction incorporates pre-wired video capabilities in all living spaces. While an added convenience, the presence of such unused cableand wall plates results in un terminated F-connections throughout the home or office. This minefield of RF ingress and signal reflection degradation, coupled with the increased presence of wireless telephones, routers and networks, CB and HAM radio, and other such devices, causes an increased erosion of signal quality. Countering such signal degradation requires the removal of unused cable from the home or office, resulting in additional time and cost to the cable provider/installer. o Cable provider/installer advantages: - Cost reductions through faster installation times with plug and play connectivity - Fewer service calls related to picture quality - Fewer service calls due to RF emissions leakage beyond FCC limits - Greater customer satisfaction Cable customers, particularly faced with tight spaces such as behind a home entertainment center, find RJAX design to be superior to that of the standard F-connector. Standard F-connector configuration requires the mating connectors to be perfectly aligned and the nut to be screwed on straight, all without bending or breaking the coax wire. RJAX just snap in, and are plug and play! o Cable customer advantages: - Quick and easy mating and un-mating allows easy arranging and re-arranging of equipment and furniture - Fewer service calls due to broken or bent connectors - Superior picture quality Summary RJAX allows for a clean, efficient installation, leaving no loose cable RJAX provides higher video quality signal by automatically terminating each open wall plate RJAX results in higher quality signals, delivering higher quality video For More Information Contact: Revotech Industries International 445 S. Figueroa Street Suite 2700 Los Angeles, CA 90071 USA (213) 489-6848
www.revotech.net