Product News: Controls & Controllers
Viscosity and pH Controller features RS485 communications.
Press Release Summary: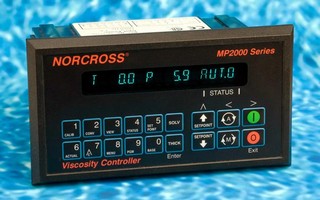 September 7, 2007 - Norcross MP2000 Viscosity Controller has 60 settings to accommodate solvent- or water-based products. It provides level, field-selectable on/off, or proportion control as well as password protected programming. Capable of displaying in piston time-of-fall seconds, Zahn or Shell Cup seconds, or centipoises, single-loop controller can be recalibrated while operating. It also features sealed keypad NEMA-4X enclosure and high- and low-viscosity alarm outputs.
Original Press Release
Viscosity and pH Controller Features Easy Operation, RS485 Communications
Press release date: August 28, 2007
A versatile, single loop viscosity and pH controller for applications with adhesives, coatings, varnishes, lacquers, printing inks and other liquids has been introduced by Norcross Corporation of Newton, MA. The Norcross MP2000 Viscosity Controller has 60 settings to accommodate solvent- or water-based products and level control, provides field select-able on/off or proportion control, password protected programming, and is offered with or without pH control. Featuring a simple user interface, this single loop controller can be recalibrated while operating, offers two-way mixing to thin, thicken, or add amine, and has RS485 communications. Capable of displaying in 'piston time-of-fall' seconds or other units such as Zahn or Shell Cup seconds or centipoises, the Norcross MP2000 Viscosity Controller is compatible with any Norcross measuring element and pH sensor used in-tank, in-line, and in pressure vessels. Standard features include sealed keypad NEMA-4X enclosure (6.2" x 3.4"), field-selectable control and alarm bandwidth, high and low viscosity alarm outputs, and battery backup. The Norcross MP2000 Viscosity Controller is priced at $2,550.00 (list) and $2,850.00 with pH control. Literature is available upon request. For more information contact: Norcross Corporation James Dulong, International Sales Director 255 Newtonville Ave. Newton, MA 02458 U.S.A. (617) 969-7020 FAX (617) 969-3260 e-mail: james@viscosity.com
www.viscosity.com