Virtual Keypad Software enables remote security operations.
Press Release Summary: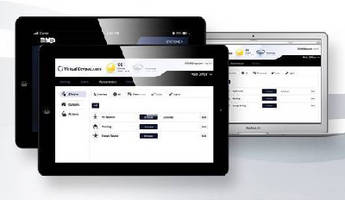 August 13, 2014 - With MyVirtualKeypad.com Browser v1.4, residential and commercial customers can control security systems. Users can program arming and disarming, as well as favorites that allow control of Z-Wave® devices to turn on/off on schedule. In addition, schools, banks, malls, and other public buildings can utilize lock-down feature during potentially threatening situation. Editable features include user code management, which includes option to add, delete, or edit users and their authority in system.
Original Press Release
DMP Releases Update 1.4.0 for MyVirtualKeypad.com
Press release date: August 11, 2014
Springfield, MO - MyVirtualKeypad.com extends the flexibility of DMP systems by providing users with additional remote operation capabilities. Whether from their Internet-connected tablet or computer, users can take their keypad with them across the country or across the room.
"MyVirtualKeypad.com Browser version 1.4 allows residential and commercial customers to take great control of their security system," explained Vice President of Sales, Mark NeSmith. "Users can now create schedules on their system from the convenience of their desk. They can program arming and disarming of their system, or favorites that allows control of Z-Wave® devices to turn or off on a schedule. More importantly with today's active violence situations, schools, banks, malls and other public buildings can utilize the lock-down feature the moment they know of a potentially threatening situation".
The below mentioned NEW features are included in the XR150/XR150/XR550 Version 106 or higher and XTL/XT30/XT50 Version 119 or higher along with the updated browser Version 1.4.0 Update.
Schedules: View, add, edit and delete system schedules for arming/disarming, favorites (includes Z-Wave®), outputs and doors
Red Visual Alarm Status: A red shield now displays along with a red background and banner to indicate an alarm under the arming tab
Door Control & Lockdown: Lock & unlock doors, and initiate lock down to all public doors in XR150/XR350/XR550 systems
In addition to the new features, users can continue to enjoy the elegant and intuitive interface, to perform basic features such as arming/disarming, checking status, area arming and output control. Users can also control lights, thermostats, door locks, appliances, cameras, and more.  Editable features include: user code management which includes the option to add, delete or edit users and their authority in the system. Users can view up to six cameras and record clips, view live or view pre-recorded clips.
Compatibility:
XTL, XT & XR Series Panels and the CellComSL Series
Use standard web browsers:
Internet Explorer® 10 & 11
Safari 6 & 7
Firefox® 27 & 28
Google Chrome® 32
DMP is a privately held independent manufacturer of innovative intrusion, fire, access control, network, and cellular communication products that are designed, engineered, and assembled in Springfield, MO. DMP is the recognized leader in alarm communication over data networks with products that are available through professional electronic security companies. For more information, contact Melissa Pitfield at (800) 641-4282, or visit
www.dmp.com
.