Product News: Optics & Photonics
Video Measuring Microscope integrates image processing abilities.
Press Release Summary: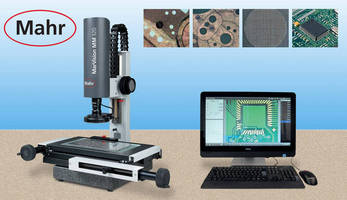 July 1, 2014 - Designed for measuring/dimensioning of geometric elements, MarVision MM 320 integrates CCD color camera with zoom lens (0.7–4.5X magnification), 23 in. touchscreen PC with keyboard and mouse, and Windows® 7-based M3 software. Automatic edge detection enables measurement of even low contrast features, while Multi Touch function provides continuous variable magnification. Illumination is provided by LED ring top light and table-mounted Telecentric LED transmitted light.
Original Press Release
Mahr Federal to Feature MarVision MM 320 Video Measuring Microscope with Image Processing at IMTS
Press release date: June 30, 2014
PROVIDENCE, RI – Mahr Federal will feature the MarVision MM 320, a new video measuring microscope with image processing capability, the flagship product for a new line of Mahr optical measuring instruments, at IMTS, September 8-13, 2014, McCormick Place, Chicago, IL, Booth #E 5242.
Designed for the measurement and/or dimensioning of geometric elements, the MarVision MM 320 incorporates an integrated CCD color camera with zoom lens, a 23" touchscreen PC with keyboard and mouse, and easy to use Windows 7-based M3 software. Automatic edge detection allows even low contrast features to be measured, and a Multi Touch function provides quick and continuous variable magnification using either touchscreen or mouse.
"MarVision optical measuring instruments offer a quick and reliable solution to many different 2D measurement and inspection tasks," said George Schuetz, Director Precision Gages for Mahr Federal. "Applications range from cutting tools and precision products for manufacturing, plastics, and medical technology, to miniaturized electronic components. These extremely precise measuring instruments are designed to meet the highest quality and production requirements."
The MarVision MM 320 rests on a robust hardened granite base with a precision mounted XY table. An optical incremental measuring system assures quick and fine adjustment of the axis, and a laser pointer assists with part positioning. The CCD camera and Navitar Zoom lens with 0.7-4.5x magnification are mounted on a stable Z-column with 200 mm vertical movement. Coarse and fine height adjustment knobs are mounted on both sides for precise focusing. Illumination is provided by a quadrant LED ring top light with four individually controlled segments, and table mounted Telecentric LED transmitted light for more focused measurement of rotationally symmetric parts.
Also on display at Booth #E 5242 will be Mahr Federal's:
• Extremely broad line of MarCal calipers for a wide range of outside, inside, depth, step, and compound measurements.
• MarCator Digital Indicators with MarConnect Integrated Wireless data transmission system being demonstrated on Snap Gages, Bore Gages, ID/OD Comparators, and Thickness Gages.
• New, totally redesigned MarShaft™ SCOPE Plus, high-precision, fully automatic optical measuring system for dimensional testing of turned parts.
• Two new optical surface measuring systems, the MarSurf® WM 100 and MarSurf CWM 100, designed to provide fast non-contact 3D scanning and evaluation of very small to medium sized surface details on a wide range of components, including optics. The systems are designed for the measurement of optical, technical and reflecting surfaces, and to provide 3D topographical analysis where high information density is required, such as printed circuit boards.
Mahr Federal Inc., a member of the Mahr Group, has been providing dimensional measurement solutions to fit customer application needs for over 150 years. The company manufactures and markets a wide variety of dimensional metrology equipment, from simple and easy-to-use handheld gages to technically advanced measurement systems for form, contour, surface finish and length. Mahr Federal is also well known as a producer of custom-designed gages and a provider of calibration and contract measurement services. Mahr Federal's calibration laboratories are accredited to ISO/IEC 17025:2005 NVLAP Lab Code 200605-0 (see our Scope of Accreditation for accredited calibration processes). For more information visit
http://www.mahr.com
For additional information, contact:
Marketing
Mahr Federal Inc.
1144 Eddy Street
Providence RI 02905 USA
Tel: (800) 343-2050 or (401) 784-3100
Fax: (401) 784-3246
Email:
information@mahr.com
Web site:
http://www.mahr.com