Product News: Computer Hardware & Peripherals
Video Cameras view out-of-reach targets.
Press Release Summary: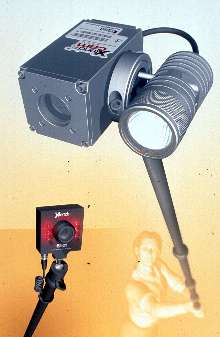 December 12, 2002 - Handheld XtendaCam(TM) Series cameras, with 380-470 HTVL resolution, illuminate and view inaccessible areas, delivering crisp video to any monitor or recorder. Carbon-fiber, collapsible pole telescopes from 2 ft 10 in. to 11 ft 6 in. Interior cabling ensures quick deployment and snag-free operation. Locking swivel mechanism lets user aim head manually. Cameras submerge to depth equaling their length and collapse to less than 3 ft long, stowing away in transit case.
Original Press Release
Illuminated, Collapsible Pole Cameras View Out-of-Reach Targets
Press release date: December 4, 2002
Bring out-of-reach targets into view with new XtendaCam(TM) Series pole cameras from iShot Imaging. "These slender, handheld instruments illuminate and view inaccessible areas, delivering crisp video to any monitor or recorder. Lightweight design and internal cabling make XtendaCams(TM) highly maneuverable, while their small collapsed size maximizes portability. Central to the design of the XtendaCam(TM) Series is an advanced carbon-fiber composite collapsible pole. This strong, rigid pole weighs just 1.6 lb yet telescopes from 2'10" to 11'6". Interior cabling ensures quick deployment and snag-free operation. A locking swivel mechanism atop the pole lets the user aim the head manually to satisfy the needs of various applications. XtendaCams(TM) are ideal for looking over walls and barriers, onto roofs and raised surfaces, around corners, into cavities, and under vehicles and furniture. Applications include industry, transportation, municipal works, security/surveillance, law enforcement and broadcast/entertainment. For added versatility, XtendaCams(TM) submerge to a depth equaling their length. They also collapse to less than 3' long, stowing away securely in a rugged transit case. Options to enhance their performance include a lithium-ion battery; a 5.4" TFT flat-panel monitor that clips to the pole; and a digital video walkman that records 90 minutes of inspection footage. XtendaCams(TM) come in three models: XtendaCam-C(TM) combines a color camera and LED lamp array on a locking ball swivel. The camera captures color video at 380 HTVL resolution using a 1/4" CCD. A 3.6 mm lens focuses manually on targets ranging in distance from 10mm to infinity. Auto-shutter circuitry ensures optimum exposure under a variety of lighting conditions; iris, gain and white balance settings are all remotely adjustable. A dimmer knob at the base of of the pole varies intensity of the LED lamp array, allowing the operator to see targets as far as 10' in total darkness. Distributed around the camera lens, the LEDs minimize shadow areas in the camera's field of view. XtendaCam-C's(TM) camera and lamps are aimed manually on a locking ball swivel and fit through holes as narrow as 2.5" dia. The system outputs a composite video signal directly to any standard monitor or recorder. XtendaCam-IR(TM): XtendaCam-IR(TM) combines a monochrome camera and an array of infrared LED lamps on a locking ball swivel. It adheres to the same form factor as the XtendaCam-C(TM), but is optimized for viewing under zero-visible-light conditions. The camera captures black-and-white video at 380 HTVL resolution using a 1/4" CCD. A 3.6 mm lens focuses manually on targets ranging in distance from 10mm to infinity. Auto-shutter circuitry ensures optimum exposure under a variety of lighting conditions; iris, gain and white balance settings are all remotely adjustable. A dimmer knob at the base of of the pole adjusts LED lamp intensity, allowing the operator to see targets as far as 30' in total darkness. Distributed around the camera lens, the LEDs minimize shadow areas in the camera's field of view. XtendaCam-IR's(TM) camera and lamps are aimed manually on a locking ball swivel and fit through holes as narrow as 2.5" dia. The system outputs composite video footage directly to any standard monitor or recorder. XtendaCam-Zoom(TM): XtendaCam-Zoom(TM) combines a color zoom camera and high-power lamp on a locking swivel collar. The camera captures color video at 470 HTVL resolution using a 1/4" IT CCD with Super HAD technology. Auto-focus circuitry ensures a crisp view of targets ranging in distance from 10 mm to infinity. To fill the screen with targets of varying size and distance, 10:1 optical (4.6-46 deg HFOV) and 4:1 digital zooms combine to yield an overall zoom of 40:1, which is controlled by a thumb toggle at the base of the pole. The camera views objects under lighting as dim as 4.0 lux, which means XtendaCam-Zoom(TM) can discern targets as far as 90' in total darkness with lamp at full intensity. White balance, shutter, gam, auto exposure and backlight compensation are all remotely adjustable, and date/time/title can be written to video if desired. A dimmer knob at the base of of the pole adjusts intensity of XtendaCam-Zoom's(TM) focusable 35 W halogen lamp. Both camera and lamp are aimed manually on a locking swivel collar and fit through holes as narrow as 5" dia. XtendaCam- Zoom(TM) outputs composite or S-video footage to any standard monitor or recorder via an intermediate control unit. XtendaCam(TM) Series cameras join the growing family of iShot Imaging visual inspection tools designed and manufactured by InlerTest These products include modular video inspection systems, robotic camera tools, video inspection probes, handheld camera tools, microcamera retrieval tools, and accessories. iShot Imaging is a brand of InterTest. Since 1981, the engineers and technicians at InterTest have helped industry leverage new imaging technologies to address remote viewing challenges. Headquartered in Columbia, NJ, InterTest manufactures and distributes remote vision, ultrasonic, eddy current, hardness, and x-ray fluorescence test and inspection equipment worldwide. InterTest maintains offices in Alta Loma, CA; Newton, MA; Camden, NJ; Pittsburgh, PA; and Hartsville, SC, and offers sales and support nationwide through network of partners. iShot Imaging products can be found online at
www.intertestinc.com
Technical Contact: William J. Habermann, President o (908) 496-8008 o bhabermann@intertestinc.com