Vibratory Finishing Machines offer wide range of options.
Press Release Summary: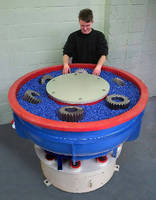 March 10, 2014 - Available in 3 models with process chambers of 300, 150, and 75 L, Vibratory Finishing Machines features stress relieved bowl with cast polyurethane lining, driven by heavy-duty, 3-phase electric motor. Comprehensive range of options is available, including PLC control of chemical additive dosing, water metering, and recirculation, as well as effluent control, automatic parts separation from media, and acoustic suppression cover.  
Original Press Release
Economy Range of Vibratory Finishing Machines to Be Launched
Press release date: February 28, 2014
To complement its high-end vibratory finishing and polishing bowls, a new range of three competitively priced models will be unveiled by PDJ Vibro on stand 5601 at MACH 2014. With process chamber capacities of 300, 150 and 75 litres, the machines are priced about 25 per cent lower than the company's existing bowls.
Nevertheless, the new models are built to a high specification. They have a durable, stress relieved bowl with cast polyurethane lining, driven by a heavy-duty, three-phase electric motor.
Although it is anticipated that the machines will normally be supplied without additional equipment, a comprehensive range of options is available. They include PLC control of chemical additive dosing, water metering and recirculation, as well as effluent control, automatic parts separation from the media and an acoustic suppression cover.
Applicable to this new economy range is PDJ Vibro's extensive add-on services, which include demonstrations at the company's technical centre in Milton Keynes, free process trials and supply of samples. The company will select the best finishing media and compounds to establish the most cost-effective and efficient processes for the customer's different component sizes, shapes and materials.
Services that apply to any make of vibratory finishing equipment encompass machine repair, rebuild and retrofit. Subcontract finishing and polishing is another facet of PDJ Vibro's activities, with some three million components processed every month.
The company's managing director, David Hurley, commented, "A lot of subcontractors and OEMs want to move away from manual finishing and automate the process, both for health and safety reasons and to improve consistency.
"They often need to minimise their investment in vibratory finishing, but lower cost, used machines are becoming increasingly difficult to source now that we are coming out of recession. "Our new economy range of bowls may well be ideal for these manufacturers, although they will still have the option of our top-end machines with higher levels of engineering, control and automation."
Designed for mass finishing of small to medium sized components, the full range of PDJ Vibro finishing bowls have chamber sizes ranging from 7.5 to 6,000 litres. They provide a wide spectrum of capabilities from simple deburring, descaling, edge breaking and radiusing to superfinishing. Degreasing, rinsing and drying operations may be included.
Over 100 new and refurbished machines including circular bowls, rectangular trough vibrators and barrel finishing machines are stocked for immediate delivery, together with some 70 tonnes of media and finishing compound.
PDJ Vibro to target the aerospace sector with an ultra-fast superfinishing process
An exclusive agreement concluded with a US company in February 2014 means that PDJ Vibro will be able to promote a new subcontract superfinishing and surface improvement service at MACH this year. Said to be 16 times faster than conventional processes, it is applicable mainly to aerospace primes and their supply chains, although medical and motorsport engineers may well be interested.
A confidentiality agreement with the supplier of the technology precludes details being revealed of the technique. Consequently, it is only available as a subcontract service from a secure facility within PDJ Vibro's Milton Keynes headquarters. The only information that has been made public is that the process is non-vibratory.
David Hurley advises that 16 hours of traditional superfinishing of turbine blades and vanes is required to achieve 0.08 micron Ra over all of the aerofoil surfaces, with the accent on all. This has been compressed into one hour using the new process, which can polish any material including nickel-based alloys and stainless steel.
Finishing of additively manufactured parts
In a third strand of PDJ Vibro's promotions at MACH, the company will emphasise its expertise in vibratory finishing of components made by the increasingly popular additive manufacturing (AM), or 3D printing process. The customer base includes leading exponents of the technology, including rapid prototyping bureaux 3T RPD and Ogle Models.
The technology is gaining in popularity throughout many areas of production, not just in engineering (including aerospace) but also in the manufacture of lifestyle products, all of which signals a major growth area for vibratory finishing.
A feature of some 3D printed parts is that the layers can be relatively thick, albeit measured in tens of microns. The surface roughness can be successfully smoothed with a high degree of control in PDJ Vibro finishing machines.
Different process parameters apply to metal and plastic components produced by AM and the company has an extensive database of finishing knowledge that is available to users.
On behalf of:   
PDJ Vibro Ltd
46 Barton Road
Water Eaton Industrial Estate
Milton Keynes, Buckinghamshire, MK2 3BB
Tel: +44 (0)1908 648757 
Fax: +44 (0)1908 648766
Contact:
David Hurley
Managing Director
Email:
david.hurley@pdjvibro.co.uk
Website:
www.pdjvibro.co.uk