Product News: Material Handling & Storage
Vertical Lift Module increases pick speed via light pointer.
Press Release Summary: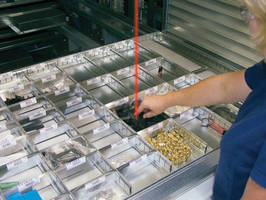 December 26, 2012 - Shuttle VLM is available with light pointer for directing pickers to specific part location. LED spot or laser light, mounted to slider, moves horizontally on guiding system. Located inside over access opening of Shuttle VLM, pointer swivels to illuminate exact location of item to be picked or replenished. Once operator confirms part has been picked, light pointer swivels to next part location on pick list. Solution  eliminates manual part searches, increasing pick rate.
Original Press Release
New Light Pointer Increases Pick Accuracy in Shuttle VLM
Press release date: December 19, 2012
The light pointer now available with a Shuttle Vertical Lift Module (VLM) from Kardex Remstar directs an operator to a specific part location using a laser or LED spot. This new pick to light system can increase accuracy, productivity and overall picking speed.
The light pointer consists of an LED or laser light mounted to a slider that moves horizontally on a guiding system. Located inside over the access opening of a Shuttle VLM, the LED or laser light pointer swivels in depth direction to illuminate any position within the tray. The light spot immediately identifies the exact location of the item to be picked or replenished.
The light pointer navigates the operator to the exact part to be picked increasing pick accuracy. This eliminates any hesitation or guessing when retrieving a part. In a manual system, there is a greater chance of error.
The light pointer eliminates the need to manually search for each part, allowing the operator to pick faster. The light pointer can also assist operators with batch picking. The Shuttle VLM delivers the tray directly to the operator at an ergonomic height and the light pointer highlights the exact location of the part to be picked. Once the operator has confirmed the part has been picked, the light pointer will swivel to the next part location on the pick list. This allows orders to be filled quicker.
The light pointer is the newest addition to the Kardex Remstar QuickPic pick to light family of products. It can stand alone to navigate an operator to a part location, or work with a TIC (transaction information center) to further improve picking accuracy.
Kardex Remstar, LLC, a company of the Kardex Group is a leading provider of automated storage and retrieval systems for manufacturing, distribution, warehousing, offices and institutions. For information about our dynamic storage solutions, call 800-639-5805 or visit
www.kardexremstar.com/
.
Kardex Remstar Media Contact:
Christina Dube, Marketing Communications Manager, 207-591-3168
christina.dube@kardexremstar.com
For more articles and high resolution photos please go to
MediaCenter.KardexRemstar.com
Kardex Remstar, LLC
41 Eisenhower Drive • Westbrook, ME 04092 • Tel 800-639-5805 • Fax 207-854-1610 •
www.KardexRemstar.com
A Member of the Kardex Group