Product News: Electrical Equipment & Systems
VDO RoadLog 9 Pin Green Connectors combine with GPS data.
Press Release Summary: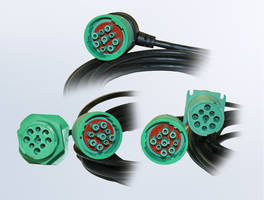 February 15, 2017 -
Designed as direct connection or as Y-Cable configuration, VDO RoadLog 9 Pin Green Connectors enable owners to run single platform in mixed fleets. Units are available in P/N 3290-90101200 direct cable, P/N 3290-90101300 flange cable and P/N 3290-90101400 plastic nut cable models.
Continental Interior / Commercial Vehicles & Aftermarket - Allentown, PA
Original Press Release
VDO RoadLog Installation Kit Portfolio Expanded with New Range of 9 Pin Green Connectors
Press release date: February 13, 2017
Allows VDO RoadLog owners to run a single platform in mixed fleets
Continental, a leading global supplier of systems, components and tires to automobile and truck manufacturers, and a world leader in Electronic Logging Device technology, has expanded its VDO RoadLog installation kit portfolio with a new line of 9 Pin Green Installation Kits. This addition increases the capability of the VDO RoadLog ELD program to run a single platform in mixed fleets with plug-n-play convenience.
The VDO RoadLog 9 Pin Green Installation Kits support 2015 and newer trucks that utilize 9 Pin type II (green) Deutsch diagnostic ports, as well as pre-2015 9 Pin type I (black) Deutsch diagnostic ports. The VDO RoadLog 9 pin Green Connectors are available as a direct connection or as a Y-Cable configuration that leaves an open diagnostic port and cleanly installs into the vehicle cab.
The new installation kits are available as a 9 Pin Direct Cable (P/N 3290-90101200), 9 Pin Y with Flange Cable (P/N 3290-90101300) and 9 Pin Y with Plastic Nut Cable (P/N 3290-90101400).
VDO RoadLog is a breakthrough in log automation and one of the first stand-alone ELDs offered in North America, providing an affordable, easy to use, plug-and-play solution for compliance reporting. VDO RoadLog combines GPS data with input from the vehicle to create a digital log that the driver can either download or print out as needed. It is available as a stand-alone unit without monthly fees and as a connectivity package with affordable monthly plans.
VDO RoadLog Fleet Online brings innovation to logbook automation and fleet management with an expanded range of new products and services. The VDO RoadLog portfolio now offers online and mobile connectivity for both fleets and owner operators that will not only improve operational efficiency for drivers and fleet managers, but also make the workload easier and less stressful.
For more information, visit: www.vdoroadlog.com, or contact: roadlog-sales@vdo.com.
Continental develops intelligent technologies for transporting people and their goods. As a reliable partner, the international automotive supplier, tire manufacturer, and industrial partner provides sustainable, safe, comfortable, individual, and affordable solutions. In 2016, the corporation generated preliminary sales of around €40.5 billion with its five divisions, Chassis & Safety, Interior, Powertrain, Tire, and ContiTech. Continental currently employs more than 220,000 people in 55 countries.
Information management in and beyond the vehicle is at the very heart of the Interior division. The product portfolio for different types of vehicles includes: instrument clusters, multifunctional and head-up displays, control units, access control and tire-information systems, radios, infotainment systems, input devices, control panels, climate control units, software, cockpits as well as services and solutions for telematics and Intelligent Transportation Systems. The Interior division employs more than 40,000 people worldwide and generated sales of €8.2 billion in 2015.
Within the Interior Division the Commercial Vehicles & Aftermarket Business Unit accommodates the specific requirements of the commercial vehicle, special vehicle and aftermarket sector. A global network of sales and service companies ensures proximity to local customers. Covering the product brands Continental, VDO, ATE, Galfer and Barum the Business Unit offers web based managed services, fleet management and tachograph solutions electronic products, systems and services for commercial and special vehicles, a broad selection of products for specialized workshops and spare parts for the Independent Aftermarket and the Original Equipment Services after end of series production of the vehicle manufacturer.
Contact for journalists:
AnnaMaria Blose Manager,
Marketing Communications
Continental
Interior / Commercial Vehicles & Aftermarket
6755 Snowdrift Road,
Allentown, PA 18106
Tel: (610) 289-0488 ext. 4002,
Fax: (610) 289-1766