Variable Speed DC Drive controls 90 Vdc motors.
Press Release Summary: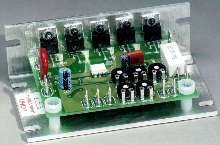 December 5, 2003 - Mounted on unanodized chassis, EC2 series SCR drive provides features for driving 90 Vdc brush motors up to 5 A with 115 Vac power supply. Start-stop control is available through inhibit terminals, and set-up is accomplished using on-board trimmer pots to adjust for min speed, max speed, IR compensation, current limit, and acceleration/deceleration. Applications include conveying, material handling, and packaging, sorting, and printing machinery.
Original Press Release
EC2 - Reliable and Low Cost DC Drive
Press release date: November 1, 2003
Minarik Drives has introduced the EC2 series, a rugged and reliable SCR drive that is the low cost leader in variable speed DC speed controls. Mounted on an unanodized chassis, the EC2 is built to drive 90VDC brush motors up to 5A with an 115VAC power supply. Setting up the EC2 is simple using the on-board trimmer pots to adjust for min speed, max speed, IR compensation, current limit, and acceleration/deceleration. Easy start-stop control is available through the inhibit terminals. Shorting the inhibit terminals causes the motor to coast to a stop; opening the terminals causes the motor to accelerate to set speed. The EC2 provides all the essential features for 90VDC motor control without added extras. While perfect for OEMs, Users will also find the simplicity of the EC2 attractive. Typical applications include conveying, material handling, packaging machinery, sorting machinery, printing machinery, and a plethora of other OEM machinery. For over 50 years, Minarik Drives has lead the industry with state-of-the-art manufactured solutions for DC motor controls 5 Hp and below. To better serve our growing customer base, the product offering and the global distributor network continue to be expanded, which is supported by factory-trained engineers, sales representatives, and customer service personnel. Call 800-Minarik (646-2745) or visit
www.minarikdrives.com
for further information on all Minarik Drives product. For more information contact:
John Reilley
V.P. of Corporate Marketing
905 E. Thompson Avenue
Glendale, CA 91201
Tel: 818-637-7500
Fax: 818-637-7549
John.Reilley@minarikcorp.com