Product News: Controls & Controllers
Variable Frequency Drive features modular design.
Press Release Summary: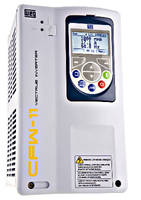 April 5, 2011 - Available with 400-2,500 hp control unit, CFW11-M Inverter is supplied with all electrical and fiber optic connecting cables, panel rails, and fuses installed. Controls provide 3-phase, 380-690 Vac induction motor control with IPS1 interface card. To help prevent heat buildup, drive includes monitoring and protection functions, including IGBT overload protection feature, which monitors junction temperature and generates failures or alarms.
Original Press Release
New WEG CFW11-M Low Voltage, Variable Frequency
Press release date: March 25, 2009
ATLANTA, G.A. -WEG Electric Corp. (www.weg.net), a leading global supplier of motors, drives, controls, transformers, and generators, introduces the CFW11-M inverter, a new generation of low voltage, variable frequency (V/F) drives for high horsepowers (HP) and the latest innovation in WEG's CFW series of V/F inverters.
Unique to the new CFW11-M drive is its compact, U11 modular power unit. This space-saving module is designed in a slim "book" format (width smaller than depth) and can be configured to the applicable motor power by paralleling up to five units. "Adaptability is a distinct advantage of the new CFW11-M inverter," said Jorge Velazquez, senior drives engineer, WEG Automation Division. "You can start with a smaller HP motor and, as power needs increase, 'build' the unit to accommodate higher output requirements. With its built-in load reactor, paralleling is easy."
The control unit on the WEG CFW11-M drive provides three-phase (380V to 690V) AC induction motor control with an easy-to-use IPS1 interface card and connecting cables. Engineered for heavy duty applications, controls start at 400HP and continue to 2500HP.
Full-featured monitoring and protection functions in the V/F drive help prevent heat buildup for longer motor life and safer, more reliable performance. Its IGBT overload protection feature monitors junction temperature (via thermal imaging) and generates failures or alarms by "book." In addition, the heatsink fans have an automatic on/off control to ensure added protection.
The CFW11-M modular V/F drive is available as kits for cubicle assembly by the customer or as completely housed units, with integrated 6 pulse or multi-pulse front-end rectifiers (AFW11-M is composed of a CFW11- M unit and input rectifier and switchgear). It comes complete with all electrical and fiber optic connecting cables, and panel rails and fuses installed. In addition, its high power density, slim design features wheels for easy servicing.
For more information on these new low voltage, variable frequency drives, please visit
www.weg.net
or call 1-800-ASK-4WEG.
About WEG Electric Corp.
Founded in 1961, WEG has grown into a global solutions provider of industrial electrical technologies. WEG is the largest industrial electric motor manufacturer in the Americas and one of the largest manufacturers of electric motors in the world producing more than 10 million units annually. Committed to growth on a global scale, WEG continually invests in state-of-the-art manufacturing facilities and processes, and the development of new and improved industrial electrical solutions. WEG offers a diverse and integrated product line that includes motors, drives, controls, transformers, and generators. WEG has committed to an R&D investment of 3% of annual global sales.
WEG Electric Corp.
Gerardo Elias-Rodriquez: gelias@weg.net
Catherine Medler: cmedler@weg.net
1327 Northbrook Parkway, Suite 490
Suwanee, GA 30024
1-800-ASK-4WEG
www.weg.net