Product News: Material Handling & Storage
Vacuum Coating System suits thin film deposition processes.
Press Release Summary: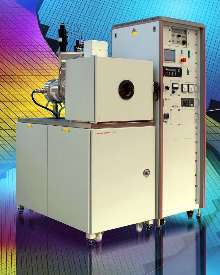 October 20, 2004 - Designed for production of substrates used in semiconductor, laser, and scientific industries, custom-built TF600 has 600 mm wide coating chamber with vacuum pumping system in rear. Pumping system options include diffusion, turbomolecular, and cryogenic high vacuum pumps as well as XDS 35i dry scroll pump for backing and chamber roughing. Process options include resistance evaporation, electron beam, RF, DC, and pulsed DC sputtering.
Edwards Vacuum Technology - Tewksbury, MA
Original Press Release
New Vacuum Coating System Offers Increased Productivity and Flexibility for Thin Film Deposition Processes
Press release date: October 13, 2004
BOC Edwards has introduced a new addition to its range of vacuum coating systems for thin film deposition processes. The TF600 combines a 600mm wide coating chamber with a high throughput, vacuum pumping system. The new system is designed to deliver increased productivity and flexibility for those responsible for the research, development and production of substrates used in the semiconductor, laser and scientific industries.
The TF600 has several new design features such as the placement of the high vacuum pumping system at the rear of the chamber, to provide faster pumpdown. Pumping system options include diffusion, turbomolecular, and cryogenic high vacuum pumps, and the XDS 35i 'dry' scroll pump for backing and chamber roughing.
Every TF600 system is custom built to the user's specific requirements. Process options include resistance evaporation, electron beam, RF, DC and pulsed DC sputtering. With a variety of chamber heights, loadlock options and multiple source configurations, the TF600 allows users to address a wide range of applications and specialist techniques such as lift off and ion beam processing.
The TF600 joins BOC Edwards' range of highly successful thin film systems, which include Temescal electron beam systems. Also available is the entry level Auto 306 evaporator and the versatile Auto 500, which offer additional chamber and deposition options.
For further information contact:
Anne Bradnick, Marketing Communications, 800-848-9800 x3517, anne.bradnick@bocedwards.com
For more information on our range of oil-free pumps as well as our other vacuum pumps and accessories, visit
www.bocedwards.com
, call 1-800-848-9800 or email info@bocedwards.com.
BOC Edwards, a BOC Group line of business, is a world leader in vacuum and pressure technology for industrial, scientific, process and semiconductor applications. The company designs, manufactures and supports equipment capable of achieving high vacuums down to 10-10mbar and pressure up to 3.5mbar. BOC Edwards invented the concept of the oil-free 'dry' vacuum pump and now markets a range of dry pumps using claw, roots, scroll and combined mechanisms for a wide range of vacuum and pressure applications. Other product technologies include rotary vane, vapour diffusion, liquid ring, steam ejector and turbo molecular pumping.
The BOC Edwards coating business offers thin film deposition systems for scientific and R&D applications, and a range of spectacle lens coating systems for the ophthalmic retail trade. BOC Edwards Pharmaceutical Systems produce specialist freeze drying and filling systems for aseptic packaging applications.
BOC Edwards is the trading name of BOC Limited which is part of The BOC Group plc.
Serving two million customers in more than 50 countries, The BOC Group is one of the largest and most global of the world's leading gases companies. It employs over 44,500 people and had annual sales of just over £4 billion (US$6.3 billion) in 2003. For more than a century BOC's gases and expertise have contributed to advances in many industries and aspects of everyday life including steel-making, refining, chemical processing, environmental protection, wastewater treatment, welding and cutting, food processing and distribution, glass production, electronics and health care.