Product News: Computer Hardware & Peripherals
USB Adapter lets laptop users access Internet from anywhere.
Press Release Summary: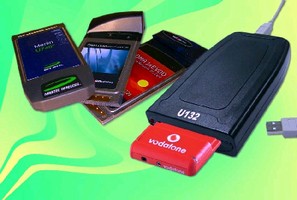 August 10, 2006 - With U132 USB-to-PCMCIA Cardbus Adapter, installation involves loading of software, plugging adapter to USB port, and inserting 3G card. High-speed connection can be established via standard connection wizards, and power is supplied via USB port. Adapter is suited for embedded applications including vending machines, electronic billboards, and any remote equipment that requires wireless communication for updating data or monitoring.
Original Press Release
Elan's 3G Modem USB Adapter Sales Exceed Expectations
Press release date: July 3, 2006
FAREHAM, UK - Even prior to launch, Elan Digital's U132 USB to PCMCIA Cardbus adapter had back orders which exceeded expectations. Elan Digital, the interface specialists, had already identified a requirement for the adapter because of the lack of PCMCIA slots in the latest notebook PCs. They specifically designed the U132 adapter to resolve the problem by simply plugging the adapter straight into the USB port, enabling laptop users anywhere in the world to access the internet, even in the most remote areas. Now just launched, the Elan U132 unit provides a unique solution for users of PCMCIA 3G modem cards who need to connect their card via the USB port on their computer. Other applications for the U132 are enabling 3G wireless connection to desktops or workstation PCs. Embedded applications include vending machines, electronic billboards which can be updated or interrogated remotely. In fact, any 'remote' equipment that requires wireless communication for updating data or monitoring can be addressed by plugging in a U132 adapter and 3G modem card. Installation of the U132 is extremely simple and involves only the loading of the Elan software, plugging in the adapter to the USB port and inserting the 3G card. A high speed connection can then be established via standard connection wizards. Power is supplied via the USB port. The device has worldwide application and supports a growing range of currently available 3G cards. The list of supported cards is extending and is constantly updated on the Elan Digital website. To see the latest cards on the list visit www.elandigitalsystems.com/support/ufaq/supportedcards.php For technical information on the U132 adapter visit http://www.elandigitalsystems.com/usb/u132.php About Elan Elan Digital is a specialist design house centred on interface technology. A worldwide range of clients uses their products and custom design services. Elan Digital is a privately owned company which has gained unique experience over its 30 year history and uses the latest design & manufacturing technology which makes them one of the leading PC and PDA interface design companies globally. In recent years Elan Digital has expanded its design expertise to include USB, Express Card and SD technologies as well as focusing its design efforts on unique products for the fast-growing mobile datacomms market. Elan Digital has ISO9001 (2000) approval.