USB 3.0 External HDD has 3.5 in. form factor, 4 TB max capacity.
Press Release Summary: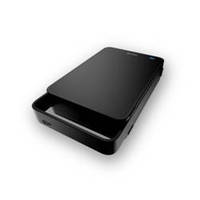 September 2, 2014 - Available in 2, 3, and 4 TB capacity options, 199 x 117.7 x 36.3 mm Stream S06 has SuperSpeed USB 3.0 interface that supports read/write transfer rates to 5 Gbps and is backwards compatible with USB 2.0. Handle design facilitates daily use and carrying, while case features ventilation holes and is designed to allow upright or flat placement. Along with power-conserving sleep mode and transfer status LED indicator, HDD comes with SP Widget software that provides backup and security tools.
Original Press Release
SP/ Silicon Power Unveils the Latest 4TB 3.5-inch USB 3.0 External Hard Drive-Stream S06
Press release date: August 25, 2014
Taipei, Taiwan — SP/ Silicon Power, the world's leading provider of memory storage solutions, today unveils the new-designed 3.5-inch USB 3.0 external hard drive—Stream S06. Taking all aspects into consideration without compromising anything useful, Stream S06 is perfectly engineered to the most powerful specifications with USB 3.0 interface, incredibly high capacity up to 4TB and elegant look. The exclusive handle design is the wonderful combination of beauty and functionality, which presents the extraordinary taste of modern design and in the meantime promises easier-than-ever user experiences for daily using and carrying. Incorporating superior capability and splendid appearance, Stream S06 is not just an addition to your storage solution but definitely a must-have for your storage system.
Higher capacity makes more possibilities
SP Stream S06 3.5-inch external hard drive features the incredibly high capacities up to 4TB, by which users can completely store and backup all kinds of files in one device only. Also, it can free computers from limited memory space and heavy burden caused by operating digital audio data. Stream S06 allows impressive storage capability that, in the case of 4TB, it can store 1.952 million high-resolution digital photos, 976 thousand songs or 1,760 hours Full-HD videos. Furthermore, Stream S06 utilizes the SuperSpeed USB 3.0 transfer interface which offers blazing-fast transfer rate up to 5Gbps (Read/Write), which is ten times the speed of USB 2.0. With such great storage capacity and high speed, Stream S06 is able to deal with different application needs, including videos or graphics editing, computing for gaming and large files backup and execution.
Handle with ease, get easy with the handle
Instead of being ordinary, Stream S06 introduces the innovative handle design that makes it easier and more convenient for users to grab and carry. Moreover, the handle adds contemporary beauty into the construction with which Stream S06 turns into an art work that shines out of other storage devices. In addition, Stream S06 features special-designed case that can be put upright or flat to perfectly fit in different space conditions. Equipped with the exclusive ventilation holes, Stream S06 enables excellent energy-efficiency and incredible cooling effect. To better satisfy users' different mobile needs, Stream S06 USB 3.0 external hard drive is available in three capacity options of 2TB, 3TB and 4TB. All Silicon Power external hard drive products are backed by a 3-year warranty and come with the exclusive free download software—SP Widget, which provides seven major backup and security tools, and a 60-day trial version of NIS (Norton Internet Security). For more information, please visit the Silicon Power website:
www.silicon-power.com
Stream S06 Product Features:
• Extremely high storage capacity up to 4TB
• SuperSpeed USB 3.0 compliant and backwards compatible with USB 2.0
• Intelligent handle design, easy to carry and use
• Special-designed case that can be put upright or flat
• Exclusive ventilation holes, enabling incredible cooling effect
• LED indicator, easier for users to recognize the transferring status
• Power saving sleep mode
• SP Widget free download software, providing 7 major back-up and security functions
Stream S06 Product Specifications:
• Dimension:199 x 117.7 x 36.3 mm
• Weight:770~876 g (by capacity)
• Capacity:2TB, 3TB, 4TB
• Material:Plastic
• Color:Black
• Interface:USB 3.0 / USB 2.0 compatible
• Data transfer rates:Max. 5 Gbps (USB 3.0 Mode)
• Power supply:DC12V
• Supported operating systems:Windows 8.1/8/7/Vista/XP, Linux 2.6.31 or later, Mac OS 10.5 or later
• Operating temperature:5°~ 55°
• Storage temperature:-40°~ 70°
• Warranty: 3-year warranty
About SP / Silicon Power
Silicon Power Computer & Communications Inc., founded in 2003 by a group of enthusiastic specialists of flash data storage industry. Well dedicated in brand image and product quality, SP has been recognized and well accepted by millions of end-users in more than 100 countries, becomes the world's leading manufacturer of flash memory cards, USB flash drives, card readers, DRAM modules, solid state disks, and external hard drives in less than a decade. Headquartered in Taipei, we continuously established various branches throughout the world including Netherlands, Japan, Russia, Mainland China and other emerging market. With superior quality and innovative design, our products stood out in many competitions and awarded with numerous well-known design awards, such as Taiwan Excellence, COMPUTEX Design & Innovation Award, red dot design award, iF Design Award and IDEA . Winning trust of global consumers SP holds a record of successive double-digit revenue growth for last ten years. For SP, the product we introduced is not only a digital storage device but also a real promise to create and preserve your most valuable memory in every moment.