Product News: Computer Hardware & Peripherals
USB 3.0 Connectors come in standard and mini versions.
Press Release Summary: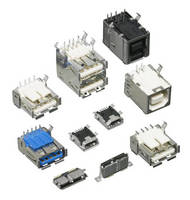 December 17, 2012 - Passing 16 MHz signal attenuation per ASTM-D-4566, Standard USB 3.0 (SuperSpeed) 9-pin connectors come in Type A and Type B configurations for through-hole mounting. These fully shielded connectors have plug retention tabs and kinked locating legs for secure PCB retention. With 10 pins and .026 in. pitch, Micro USB 3.0 connectors reduce required board space for mounting and come in vertical and horizontal SMT versions. Both connectors are fully compatible with USB 2.0 specifications.
Original Press Release
Mill-Max Offers New SuperSpeed USB 3.0 Connectors
Press release date: December 12, 2012
Mill-Max has expanded its USB family to include four new USB 3.0 connectors.  USB 3.0, SuperSpeed USB, provides a 10 X faster data transfer rate over Hi-Speed USB with a 5 Gbps signaling rate.  SuperSpeed USB is a Sync-N-Go technology that minimizes user wait time and provides optimized power efficiency.  Mill-Max is offering both standard size and micro USB 3.0 connectors. USB 3.0 is fully backwards compatible with USB 2.0.

The standard style is available in Type A and Type B configurations for through-hole mounting.  The connectors are fully shielded, have plug retention tabs and kinked locating legs for secure PCB retention.  Both connectors have 9 pins.  P/N 896-46-009-90-300000 is the Type A and is packaged 100 parts per tray.  P/N 897-46-009-90-300000 is the type B and is packaged 80 parts per tray.

Micro USB 3.0 connectors offer more options when smaller solutions are necessary.  They are smaller and lighter than existing USB connectors for portable and handheld devices. They feature 10 pins and 0.66mm pitch (.026"), thereby, reducing the board space required for mounting.  The 897-10-010-00-300002 is a vertical mount version and is packaged on tape & reel:  900 parts per reel. The 897-10-010-40-300002 is the horizontal surface mount option and is packaged 1,500 parts per reel.

Standard USB Features
• USB receptacles for through-hole & SMT.
• Plug retention tabs.
• Kinked locating legs for secure PCB retention.
• Fully compatible with USB 1.0 & 2.0 specifications.
• Passes 16MHz Signal Attenuation per ASTM-D-4566.
• Packaged in trays, 150 pieces per tray.

Mini USB Features
• Mini USB receptacles for surface mount.
• 5 Pin (one ID Pin), 0.8mm pitch, mini USB connector.
• Reduced mounting space.
• Fully compliant with current USB 2.0 specifications.
• Smaller and lighter than existing USB connectors for portable and handheld devices.
• Packaged on Tape & Reel -- 700 parts per reel.

For more information, please visit:  www.mill-max.com/PR631.

Mill-Max is the leading US manufacturer of machined interconnect components with a vertically integrated manufacturing facility headquartered at 190 Pine Hollow Rd., Oyster Bay, NY  11771.  Its full product line includes spring-loaded connectors, SIP, DIP, PGA and BGA sockets, board-to-board interconnects and pin headers, surface mount and custom products, PCB pins and receptacles, solder terminals, wrapost receptacles and terminals.  The company's complete manufacturing facility includes engineering, tooling, primary and secondary machining, stamping, plating, injection molding, and assembly.

For more information, contact Robin D. Ritter, Marketing Coordinator, Mill-Max Mfg. Corp. Tel: 516-922-6000 ext. 211; Fax: 516-922-9253; rritter@mill-max.com, www.mill-max.com