Product News: Computer Hardware & Peripherals
Unshielded USB 2.0 Couplers offer secure panel-mounting.
Press Release Summary: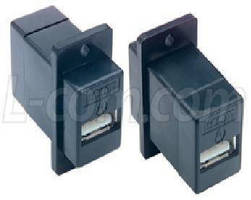 March 9, 2012 - Able to be mounted on virtually any panel thickness, models ECF504B-UAA (A-A, black), ECF504B-UBA (B-A, black), ECF504-UAA (A-A, beige), and ECF504-UBA (B-A, beige) allow USB cables to be passed through panels and enclosures. Unshielded products use ECF style flange-mount design and also feature 30 µin., gold-plated contacts that promote connection reliability with repeated mating cycles.
L-Com Global Connectivity - North Andover, MA
Original Press Release
Unshielded USB 2.0 Couplers Offer Secure Panel-Mounting to Any Thickness
Press release date: February 27, 2012
NORTH ANDOVER, MA - L-com, Inc., a designer and manufacturer of wired and wireless connectivity products, has added four new USB 2.0 couplers to its extensive USB component offering. The new couplers, which are unshielded and use the "ECF" style flange-mount design, offer beige and black colored shells with type A to A and type B to A styles.
L-com first announced the shielded type A to A adapters in 2004. These adapters have since become very popular because of their unique ECF design which allows them to be mounted on virtually any panel thickness. However, until now the A to A and B to A styles were only offered with the chrome-colored shielded shells. The new black and beige options expand the USB adapter offering.
"Until recently, the chrome-colored adapters served all applications," said Steve Smith, Product Manager. "Recent customer feedback made it clear that there is a demand for more black and beige unshielded versions."
The new adapters are offered on the L-com web site along with the existing couplers, and will include free 2D engineering drawings and 3D CAD model downloads. They will be stocked in the North Andover, MA fulfillment center for same-day shipment.
L-com, a global designer and manufacturer of wired and wireless connectivity products, offers a wide range of solutions and unmatched customer service for the electronics and data communications industries. The company's product portfolio includes cable assemblies, connectors, adapters, computer networking components, and custom products, as well as the Hyperlink line of wireless products. Trusted for more than 25 years, L-com, Inc. is headquartered in North Andover, Mass., and is ISO 9001: 2008-certified. For more information, please visit:
www.L-com.com/