Product News: Controls & Controllers
Universal Access Control Sytem optimizes uptime through safety.
Press Release Summary: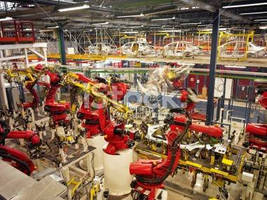 June 18, 2014 - Using smart card technology, AccessPoint from Whiting Passport controls access to mobile and fixed plant equipment, from large press and machine shops to individual forklifts and workstations, and physically prevents unauthorized people from using vital machinery they are not qualified to control. System can also record who, how, when, and where any piece of fixed or mobile equipment was used. Real-time information is accessible via Bluetooth device or by secure, Web-based application.
Original Press Release
When Time is Money and Safety is Priceless, New AccessPoint Technology by Whiting Optimizes Uptime
Press release date: June 1, 2014
AccessPoint controls access to a huge diversity of automotive static and mobile plant
There are now more than 30,000 parts in the average car, according to manufacturer estimates, and today's increasingly sophisticated vehicles contain more computing power than the Apollo moon launch.
Assembling all this technology into a completed vehicle involves an army of people working 24/7, completely focussed on optimizing quality and avoiding both accidents and downtime on a huge variety of machinery as diverse as presses, machine shops, die stamping shops, assembly stations, calibrated equipment, cranes and forklifts.
The enormous task of risk management is why Whiting Corporation has introduced to North America its new universal access control system, AccessPoint from Whiting Passport, which uses smart card technology to control access to a huge variety of mobile and fixed plant. It physically prevents unauthorised people from using vital machinery they are not qualified to control.
"In the automotive industry, time really is money and mistakes can cost huge sums. Managers and supervisors in the industry continuously need to know they have the right people on the right equipment at all times, for maximum output and uptime - not to mention for the safety or your equipment and its operators, says Whiting Passport Product Manager Joel Phelps
"We know, equipment does not break itself, people break it. Usually people that shouldn't have been touching it! From mechanics machining dies and production equipment, through to the operators of cranes, conveyors and material handling equipment, the automotive industry has to ensure the right people are doing the right job to be at peak efficiency 24/7."
From large press and machine shops, through to individual forklifts and workstations, AccessPoint from Whiting Passport prevents unauthorised people from using vital fixed and mobile plant
"AccessPoint is unique in that it controls and can record the who, how, when and where the equipment was used. The technology - which can be used on any piece of fixed or mobile equipment - is an inexpensive, easy-to-use way to significantly reduce the risks of equipment misuse, which can include death and injury, compromising of the safety of entire plant operations and also potentially causing damage and disruption that drives up operating costs.
The technology differs radically from existing access control systems that are designed to control access to areas, governing perimeter access. By contrast, AccessPoint from Whiting Passport puts an engineering control between any high risk, high value equipment and stops it being used by people who shouldn't be running it.
"AccessPoint from Whiting Passport guarantees the safety and high productivity levels your business demands by protecting you from risk, and creating a culture of responsibility among your operators as it transforms your equipment from something they use to an extension of themselves and who they are!  AccessPoint quite simply delivers behavioral change in a little blue puck!" says Mr Phelps
AccessPoint not only controls who can operate high-value, high risk equipment, but also records when they accessed it and for how long. The technology enables users to employ one system for their entire operation.
The system is administered through a secure, easy-to-use web-based application, Whiting Viewpoint, which can tell operators who is using any equipment in real time.
System users can view run hours of all AccessPoint devices within range from any Bluetooth device, or they can log into their own personal dashboard, or Viewport, from their PC to view usage statistics of all AccessPoint devices.
Each AccessPoint system is customized to each specific user, who has the power to store start and stop times, to track certification and expiration statuses and to set customized re-certification intervals on a per user basis, as they see fit.
"Users can remain in compliance with OHSA and other regulatory standards because AccessPoint gives them the ability to continuously view how their equipment is being used. Users can quickly address and correct misuse patterns. AccessPoint creates a shared culture of responsibility that ensures the correct use of high risk, high value plant equipment."
"Unlike specialized perimeter systems designed to control and record access to areas or a single asset, AccessPoint can be deployed across the entire enterprise for every range of fixed and mobile plant equipment, from a simple autoclave or process pump, to truly major items such as cranes, CNC lathes, molds, production automation and materials handling technology and expensive tracked vehicles, trucks and engineering equipment that could be lethal in the wrong hands. "
Lifting technologies to which AccessPoint applies – further  industry-specific examples available from
whyte@bigpond.com
Whiting Corporation is a member of the American Society of Mechanical Engineers (ASME) and the Crane Manufacturers Association of America (CMAA), which it supports in promoting engineering excellence and outstanding quality and safety standards.
Headquartered in Monee, Illinois, Whiting's state-of-the-art manufacturing facility extends over 197,000 square feet, and is a fully-equipped, integrated manufacturing facility with a complete machine shop for material preparation, fabrication, machining and component assembly and testing. This facility also houses the headquarters and a regional office for Whiting Services, Inc., which specializes in the maintenance and inspection of overhead cranes of all manufacturers and of other Whiting equipment. Whiting Corporation's mission is to "deliver value through customized, cost-effective solutions which meet the material handling needs of our customers."
For further information please contact, Joel Phelps,  Product Manager, Whiting Corporation, 26000 Whiting Way, Monee, IL 60449, Ph Direct - 1 (708) 340-5024, email
jphelps@whitingcorp.com
www.whitingcorp.com
For further information about this media release, please contact
whyte@bigpond.com