Product News: Electrical Equipment & Systems
Uni-S Series Crimping Applicators provide ease of set up.
Press Release Summary: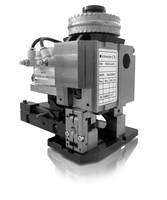 January 20, 2017 -
Uni-S Series Crimp Applicators provide economical product line with broader range of applications. Capable of accomodating insulated ferrules in continuoes strip, splice terminals and Mylar tape terminals, product is used in termination applications and accommodates carrier strips with mechanical and pneumatic feed applicators.
Original Press Release
Uni-S Crimping Applicators
Press release date: January 1, 2017
The new Uni-S series of crimp applicators replaces the Uni-A and Uni-G series. The new applicators series provides a more economical product line with a broader range of applications. The Uni-S applicators provide the same ease of set up and precision one would expect from a Schleuniger product.
The new applicators can accommodate virtually all forms of standard terminal types and carrier strips with mechanical and pneumatic feed applicators. Furthermore, the series can accommodate insulated ferrules in continuous strip, splice terminals and Mylar tape terminals.
Aside from the expanded application range the Uni-S series provides a significant cost reduction compared to their predecessors. Schleuniger processing machines can accommodate just about any wire application. Similarly, the new Uni-S line of crimping applicators can handle just about any termination application.
More information about this new product can be found at www.schleuniger-na.com. Should you have any questions, please e-mail sales@schleuniger.com or call (603) 668-8117.
About Schleuniger
The Schleuniger Group in Thun is a globally active technology company and a leading supplier in the Wire Processing industry. Customers of the Schleuniger Group primarily supply the automotive, entertainment, and information industries as well as the communication sector. Schleuniger products are used whenever precise wire processing plays a role.
Development and production are located in Switzerland, Germany, and China. Schleuniger is always close to its customers - with four Sales and Service companies in the US, Germany, China, and Japan as well as with 40 distributors worldwide.
The Schleuniger Group represents the Business Unit Wire Processing of the listed Metall Zug Group and has about 640 full-time employees and 30 trainees worldwide.
Contact:
April Grossman
Marketing Coordinator
Schleuniger, Inc.
87 Colin Dr.,
Manchester, NH 03103
Phone: 603-668-8117
Url: http://schleunigerna.rtrk.com/?scid=2649248&rl_alt=http%253A%252F%252F