Product News: Electronic Components & Devices
Ultrasonic Devices suit cleaning and welding applications.
Press Release Summary: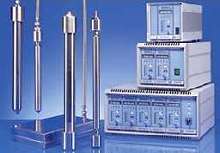 June 10, 2003 - SONIC-digital generators provide digital control of sound generation. Available in 25, 30, and 40 kHz frequencies with power ratings from 600-2000 W, modular products can be used with immersibles or plate-type transducers as well as Sonopush® and Sonopush®Mono ultrasonic transducers. Radial ultrasonic technology creates uniform, omni-directional sound field, minimizing potential standing waves with efficiency exceeding 95%.
Weber Ultrasonics USA - Clarkston, MI
Original Press Release
Innovative Ultrasonic Products
Press release date: June 2, 2003
Weber Ultrasonics USA presents its advanced line of Industrial Ultrasonic devices for Cleaning, Welding and Special applications. Weber uses state-of-the-art SONIC-digital generators for digital control of sound generation. This break through in generator technology provides the highest degree of operational safety, flexibility and reliability. SONIC-digital generators are modular and can be used with conventional immersibles or plate-type transducers as well as innovative Sonopush® and Sonopush®Mono Ultrasonic transducers. Sonopush® and Sonopush®Mono transducers are constructed from titanium alloy or stainless steel to provide maximum durability. This radial ultrasonic technology creates a uniform, high density omnidirectional sound field, minimizing potential standing waves with an efficiency exceeding 95%. Sonopush® transducers are remarkably small in foot print and simple to retrofit in existing cleaning systems. Available in 25, 30 and 40kHz frequencies and from 600 to 2000 watt power. WEBER ULTRASONICS USA WEBER ULTRASONICS USA P.O. Box 840 Clarkston, MI 48347-0840 Tel: (248) 620 5142 Fax: (248) 620 5143 e-mail: mail@weber-ultrasonics.us
www.weber-ultrasonics.us