Product News: Materials & Material Processing
Ultrasonic Bonder assembles 50-80 filter bags per hour.
Press Release Summary: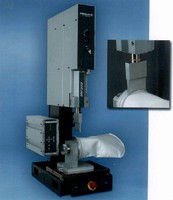 January 5, 2006 - Suited for chemical and industrial liquid applications, Filter Collar Bonder(TM) ultrasonically attaches rigid plastic circular frames to non-woven filter bags using SureWeld 20(TM) technology. Operator loads plastic ring and filter bag onto center fixture. Start button is activated causing welding head to close on part, ultrasonically weld it, and retract. Operator then manually rotates center fixture 60° and repeats process 6 times to achieve 360° weld.
Sonobond Ultrasonics - West Chester, PA
Original Press Release
Sonobond Introduces Its Filter Collar Bonder(TM) At Filtration 2005
Press release date: November 21, 2005
Innovative, new unit is ideal for chemical and industrial liquid applications

WEST CHESTER, Pennsylvania, November 21,2005-Sonobond Ultrasonics announced today that it unveiled its Filter Collar Bonder(TM) at the Filtration 2005 International Conference & Exposition in Chicago, November 15th-17th. The new ultrasonic bonder is designed for attaching rigid plastic circular frames to nonwoven filter bags. It is ideal for low-production assembly of bag filters for chemical and industrial liquid applications.

The Filter Collar Bonder is a single-module version of Sonobond's award-winning, 3-module RingMaster(TM) unit. It uses Sonobond's exclusive SureWeld 20(TM) technology and special tooling to ultrasonically attach rigid plastic collars to filtration media. This is accomplished without glue or stitching. The Filter Collar Bonder is able to assemble between 50 and 80 bags per hour.

The Assembly Process Ultrasonic welding is a proven process that is increasingly popular in the filtration industry. The bond is achieved by using a welding head to introduce vibrational energy at the interface of the plastic part and the nonwoven filter medial. This causes the materials to melt in a fraction of a second. When the material re-solidifies, a strong, high-quality bond has been created.

Sonobond's Filter Collar Bonder can be operated with only minimal training. To begin the welding process, the operator simply loads the plastic ring and filter bag onto a center fixture. The start button is then activated. This causes the welding head to close on the part, ultrasonically weld it, and retract. The operator then manually rotates the center fixture 60°. This same process is repeated a total of six times. In this way, a complete 360° weld is achieved between the bag and the plastic ring. The tooling can be quickly and easily changed to accommodate collars from four-inches to seven-inches in diameter.

Visitors to Filtration 2005 were able to see demonstrations of the Filter Collar Bonder in action by stopping at Sonobond's exhibit booth this week.

The Advantages of Ultrasonic Bonding Janet Devine, the president of Sonobond, points out that the ultrasonic bonding process used by the Filter Collar Bonder has numerous advantages over other assembly techniques. She says, "Ultrasonic bonding eliminates the need for adhesives. It speeds production because no time is needed for drying glues or other solvents. Ultrasonic bonding also eliminates the problems inherent with stitching. For example, there are no perforations to adversely affect the durability of the product. In short, ultrasonic welding produces a better, stronger seal than manufacturers can get by using thread."

Sonobond: An Industry Leader Sonobond Ultrasonics manufactures a complete line of ultrasonic welding and cutting equipment. This equipment is used with nonwovens to assemble a wide range of filters, as well as medical disposables. These units are available for both spot and continuous welding applications. They can cut and seal in one application and accommodate a variety of thicknesses or layers.

Sonobond is a worldwide leader in the application of ultrasonic bonding technology. In 1960, Sonobond, then known as Aeroprojects, received the first patent ever awarded for ultrasonic metal welding. Over the intervening 45 years, Sonobond earned an outstanding reputation for its pioneering work and quality-engineered products. Today Sonobond equipment is used to ultrasonically bond textiles, nonwovens, metals, and plastics. Customers include leading companies in the filtration, apparel, automotive, appliance, HVAC, aerospace, medical, electronic, and electrical industries.