Product News: Fluid & Gas Flow Equipment
UL Recognized Air Gun removes static and dust.
Press Release Summary: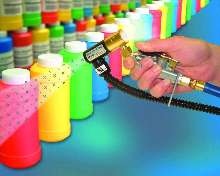 March 8, 2004 - Shockless Ion Air Gun neutralizes static electricity and cleans at distances up to 15 ft. High-velocity air jet uses small amount of compressed air to entrain 80% of total output airflow from surrounding room. Energized emitter at discharge end fills entire airstream with positive and negative ions capable of neutralizing high static charges in fraction of a second. Comfortable grip and hand position allows hours of continuous use without fatigue.
Original Press Release
UL Recognized Ion Air Gun Removes Static and Dust
Press release date: March 1, 2004
EXAIR's Ion Air Gun removes static electricity, contaminants and dust from three-dimensional parts prior to labeling, assembly, packaging, painting or finishing. It is engineered for safe operation and is now UL Component Recognized to U.S. and Canadian safety standards. The shockless Ion Air Gun neutralizes static electricity and cleans at distances up to 15 feet (4.6m). The Ion Air Gun incorporates a high velocity air jet that uses a small amount of compressed air to entrain 80 percent of the total output airflow from the surrounding room air. An electrically energized emitter at the discharge end fills the entire airstream with positive and negative ions capable of neutralizing high static charges in a fraction of a second. An optional regulator allows infinite adjustment of the air volume and velocity. A comfortable grip and hand position allows hours of continuous use without fatigue. The Ion Air Gun is quiet, lightweight, and features a hanger hook for easy storage. The 10 foot shielded power cable is extremely flexible, designed for rugged use. Applications include cleaning molded parts, pre-paint dust removal, furniture finishing and package cleaning prior to labeling or printing. Price is $285. For more information, contact: EXAIR Corporation 1250 Century Circle North Cincinnati, OH 45246-3309 Phone: (800) 903-9247 Fax: (513) 671-3363 E-mail: techelp@exair.com
www.exair.com/iag.htm