Product News: Machinery & Machining Tools
Travelling Column Machining Center has 80 m/min linear drive.
Press Release Summary: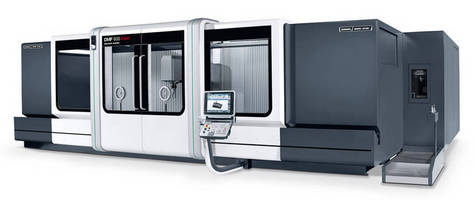 February 14, 2014 - Able to prismatically machine (and optionally turn) up to 10 ton components within 6,000 x 1,100 x 900 mm working envelope, DMF 600 linear features stable machine bed of vibration-reducing concrete and thermo-symmetrical travelling column. Travelling tool magazine has 30 pockets as standard (60 or 120 optional), and design ensures automatic tool change and chip-to-chip times of <8 sec. Linear motor in X-axis enables rapid traverse up to 80 m/min; feed rate in Y and Z axes is 60 m/min.

Original Press Release
Large, Travelling-column Machining Centre with 80 m/min Linear Drive and 10 Tonnes Capacity
Press release date: February 5, 2014
The DMF 600 linear, which made its world debut on the DMG MORI stand at the EMO show in Hannover last September, extends the top end of the company's range of travelling column machining centres. Components weighing up to 10 tonnes can be prismatically machined, and optionally turned as well, within a 6,000 mm x 1,100 mm x 900 mm working envelope.
Among the most important features of its construction are a stable machine bed of vibration-reducing, high-performance concrete and a thermo-symmetrical travelling column. The solid bed ensures that the machine has a low centre of gravity, providing excellent conditions for machining.
Adjacent to the column is a travelling tool magazine, which has 30 pockets in the standard version. The design ensures rapid automatic tool change and short chip-to-chip times of less than eight seconds. Optionally, the capacity can be extended to 60 or even 120 tools.
The linear motor in the X-axis ensures high accuracy rapid traverse up to 80 m/min, resulting in short idle times. Feed rate in the Y and Z axes is also fast at 60 m/min.
The standard version of the DMF 600 linear has an 8,000 rpm spindle, although alternatives up to 18,000 rpm are available. There is also a 10,000 rpm spindle with 413 Nm of torque and SK50 or HSK A100 interface, providing high power for heavy machining.
All spindle versions are available with a B-axis. Combined with integrated NC rotary tables, the world of 5-axis complete machining and turn-milling technology is available to users.
Due to its large size, the DMF 600 linear is intended for machining long and heavy workpieces and is thus particularly targeted at OEMs and subcontractors in aerospace, power engineering and mechanical engineering.
However, a work area partition can be supplied to extend the range of applications to pendulum machining of smaller components. Minimal spindle idle time due to offline workpiece set-up results in high levels of productivity.
Control of the machine is either by a Heidenhain iTNC530 or an Operate 4.5 on SIEMENS 840D solutionline. Operate 4.5 is the new system platform from DMG MORI for all machines with a SIEMENS control, from entry-level to high-end.
On behalf of: DMG MORI SEIKI UK LTD, 4030 Siskin Parkway East, Coventry, CV3 4PE.
Tel: 0247 651 6120.  Fax: 0247 651 6136.
E-mail:
dianne.taylor@dmgmori.com
Web site:
www.dmgmori.com
Contact:  Richard Watkins, Sales Director.
Issued by: THE RIGHT IMAGE Ltd
PO Box 42, Twickenham, TW1 1BQ
Tel: 020 8891 0603
Contact: Chris Wright
E-mail:
chris@therightimage.net
Web site:
www.therightimage.net