Product News: Computer Hardware & Peripherals
Touchscreen Computer features sunlight readable display.
Press Release Summary: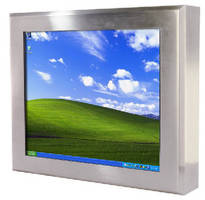 February 15, 2013 - Housed in gasket-sealed 316 SS enclosure with NEMA 4X rating, ToughStation IPC integrates 1.6 GHz Intel Atom N270 processor, up to 4 GB system memory, and 19 in. display with 1,000 nits brightness. Fanless unit can be customized with bottom- or rear-exiting connectors as well as 1 LAN port, 2 RS-232 COM ports, 3 USB 2.0 ports, 1 power on/off and 1 power connector. Operating from -10 to 45°C, VESA mount computer uses resistive touch technology, eliminating need for mouse and keyboard.
VarTech Systems, Inc. - Baton Rouge, LA
Original Press Release
VarTech Systems' Releases New 19 Inch, Sunlight Readable, Fully Enclosed, All In One, Fanless, Touch Screen Computer
Press release date: February 13, 2013
VarTech Systems, the leader in industrial environment computing, has added a new sunlight readable, 19 inch, high brightness, 1000 nits, touch screen computer to their line of rugged ToughStation IPCs. The newly released 19 inch, VESA Mount computers are housed in a fully gasket-sealed 316 stainless steel, NEMA 4X (IP66) enclosure as well as a NEMA 4 (IP65) black powder coated construction. This system is integrated with a powerful Intel Atom N270 1.6GHz processor with an optional T4500 2.30 GHz 800MHz FSB Intel Dual Core Processor. System memory is expandable to 4GB and features a completely fan less PC design offering impressive computing power in a quiet, low-power usage configuration.             
All of VarTech's fully enclosed, fully sealed computers can be customized to be equipped with either bottom-exiting or rear-exiting connectors as well as a host of i/o port configurations including 1 LAN port, 2 RS-232 COM ports, 3 USB 2.0 ports, 1 power on/off and 1 power connector. This allows for maximum system integration and compatibility into most industrial workstation environments. Additionally, the fully enclosed, sunlight viewable computers come standard with resistive touch technology eliminating the need for a mouse and keyboard. Other touch technologies are also available including capacitive touch and VarTech's proprietary Armor Touch.
Shock-mounted motherboard engineering is provided via spring-loaded mountings coupled with harnessed cables from the motherboard to the computer's I/O ports insuring the processor is not directly mounted to the enclosure and, therefore, is not affected or damaged by excessive shock and vibrations. Wide operational temperatures of -10 to 45C can be achieved with the addition of a rear dissipation heat sink for optimal temperature performance.      
VarTech Systems Inc. is an ISO 9001 registered company specializing in the manufacturing of military, marine and industrial grade displays and computer workstations. For more information on Vartech's 19 inch, touch screen, all-in-one, sunlight readable, LCD, LED computer or any of the entire line of ToughStation IPCs, please visit
http://www.vartechsystems.com/products/nema-4x-monitor-computer-workstation.asp
.