Touch Panel PC is designed for RFID access control.
Press Release Summary: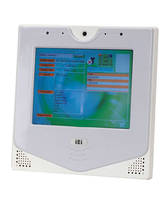 July 8, 2009 - Built on low power, low heat x86 Intel® 910GMLE and Intel® 945GSE chipsets, fanless 8.4 in. SVGA RFID panel PC ACT-08A reads both MIFARE and EM tags and transponders. It comes with RFID reader digital camera, microphone, 2 speakers, built-in Wi-Fi and Bluetooth module. Suited for RFID automated parking control systems and healthcare applications, PC features IP64 compliant front panels with anti-shock and anti-vibration shields for protection against vandalism and harsh environments.
Original Press Release
IEI Launches the ACT-08A 8.4 Inch Intelligent Access Control Panel PC
Press release date: June 23, 2009
IEI Technology Corp., a leading industrial PC provider, proudly announces the 8.4" SVGA RFID panel pc, an intelligent all-in-one access control terminal that reads both MIFARE and EM tags and transponders. The fanless ACT-08A panel PCs are built on the low power, low heat x86 Intel® 910GMLE and Intel® 945GSE chipsets. The x86-based architecture is more flexible than traditional RISC-based control terminals. The x86 architecture enables system developers to integrate sophisticated time attendance, access control and/or prepaid card software on the ACT-08A for door access, time attendance, cashless payment for vehicles, ticketing, membership clubs, photocopying, dining, laundries or parking access control. RFID Automated Parking Control System The RFID controller unit allows installation in automatic toll collection systems to ensure parking fees are paid. The ACT-08A can be used to access and control a database and monitor the toll collection transaction history. Access Control Door System The two-in-one EM/MIFARE compliant RFID reader installed in the ACT-08A supports sophisticated security applications. Advanced third-party voice and face recognition software can be integrated with the embedded camera and microphone to enable the development of complete security systems to protect restricted environments in banks, government buildings and other sensitive areas. Healthcare Solutions The ACT-08A with Radio Frequency Identification (RFID) technology applied in hospitals and healthcare facilities can identify and track patients, objects, and assets, and can speed up or eliminate many manual operations in checking and processing patients. The x86 ACT-08A all-in-one panel PC with Windows® CE and Windows® XPE operating systems is easily integrated with data intensive applications such as voice recognition and face recognition software. The ACT-08A with an 8.4" touch panel is a complete turnkey solution that comes with an RFID reader digital camera, microphone, two speakers, built-in Wi-Fi and Bluetooth module. The fanless ACT-08A systems have less downtime and extended operational lives as they are not susceptible to overheating problems caused by fan failures. The rugged ACT-08A systems combine IP 64 compliant front panels with anti-shock and anti-vibration shields to ensure the system is secured against vandalism and protected against extreme environmental conditions. About IEI Technology Corp. IEI Technology Corp. is a leading industrial computer provider. IEI's products are applied in computer-based applications such as factory automation, computer telephony integration, networking appliances, security, systems, POS systems and in fields like national defense, police administration, transportation, communication base stations and medical instruments. IEI continues to promote its own-brand products as well as serving ODM vertical markets to offer complete and professional service. For more information, please visit
www.ieiworld.com
or contact sales@iei.com.tw for further information or requests. Contact Information: IEI Technology Corp. (Headquarters) No. 29 Jhongsing Rd., Sijhih City, Taipei County 221, Taiwan (R.O.C.)Tel : +886-2-8691-6798Fax : +886-2-6616-0028 Email: sales@ieiworld.com
www.ieiworld.com
Contact Name: Kelly Wang Title: Marketing Officer E-mail: kelly2wang@iei.com.tw