Product News: Test & Measuring Instruments
Total Hydrocarbon Analyzer provides long term stability.
Press Release Summary: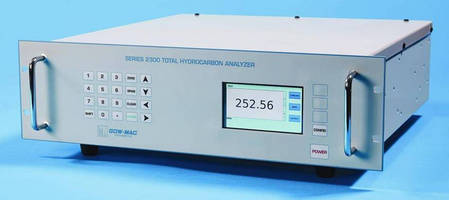 June 2, 2014 - Employing flame ionization detector (FID), Series 2300 is used to continuously measure concentrations of hydrocarbons in gas streams. Optional catalytic methanizer enables CO and CO2 measurement, and alternative version is available for beverage-grade CO2 applications. Microprocessor-controlled instrument displays concentration in ppm or ppb on graphical LCD touchscreen, which is accompanied by membrane keypad for navigation through settings and functions.
Original Press Release
New Series 2300 Total Hydrocarbon Analyzer
Press release date: May 21, 2014
BETHLEHEM, Penn — GOW-MAC® Instrument Company, a leading manufacturer of gas analysis instrumentation and compressed gas handling equipment, introduces the next generation of its total hydrocarbon analyzer, the Series 2300 Total Hydrocarbon Analyzer.  The Series 2300 microprocessor-controlled instrument is designed to continuously measure concentrations of hydrocarbons and, utilizing an optional catalytic methanizer, CO and CO2 in gas streams. An alternative version is also available for beverage-grade CO2 applications.

The Series 2300 employs a flame ionization detector (FID) where ionized carbon atoms are produced when burned in a hydrogen flame. The ionized atoms are detected by the instrument and displayed as a concentration in ppm or ppb on an LCD. A high resolution graphical LCD touchscreen accompanied with a membrane keypad allows for straightforward navigation through settings and functions.

Engineered to operate on either zero grade H2, a 40/60% H2/N2 or a 40/60% H2/He fuel mix, the instrument features auto ranging from 0.00 ppm to 20,000 ppm; auto zero and auto calibration; programmable relays for concentration alarms, events and diagnostics; electronic flow control of air, fuel, and sample gas; real-time data logging; a flame-out indicator with auto shut-off of gases for safety; and a full array of optional output capabilities, i.e., 4-20 mA, VDC [0-1 V, 0-1 mV, 0-10 V, RS-232, RS-485, USB, and Ethernet, along with MODBUS & PROFINET [read only communication protocols. Samples can be introduced by an optional internal pump or by pressurized tanks.

The instrument provides long term stability and accurate performance in gas manufacturing facilities and laboratory applications, such as:
• Gas purity certification
• UHP inert gas contaminant analysis
• Carbon bed breakthrough detection
• HC monitoring in CO2 feed streams in the food/beverage industry
• Process monitoring
• Monitoring ambient air and other gases
• Monitoring of HC emissions
• R&D laboratory applications

Customers can visit http://www.gow-mac.com or contact GOW-MAC by calling (610) 954-9000 for literature and complete details.

About GOW-MAC Instrument Co.
Founded in 1935, GOW-MAC® Instrument Co. is a leading manufacturer of high performance gas analysis analytical instruments engineered for anyone involved with the detection, analysis, production, or supply of gases within the global industrial, medical and specialty gases industries. Our GCs and gas analyzer packages are also used throughout the world by a wide variety of customers for user-specified applications in chemical analysis, industrial gas, laboratory, and educational applications.

Contacts:
Technical:
Kenneth Fincke
Vice President, Sales & Marketing
Tel: (610) 954-9000 x 239
Email: kbfincke@gow-mac.com

Media:
Gail Johnson
Marketing Communications Mgr.
Tel: (610) 954-9000 x249
Email: gsjohnson@gow-mac.com
Website: www.gow-mac.com