Product News: Mechanical Power Transmission
Toroidal Roller Bearings withstand operation in steel mills.
Press Release Summary: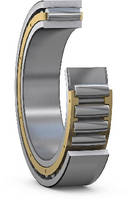 January 8, 2014 - Offered in wide range of sizes, CARB® Toroidal Roller Bearings are non-locating solutions engineered to withstand operating conditions encountered in rotating machinery in steel mills, including casters, electric motors, and gearboxes. Self-aligning units, designed for radial loads, exhibit minimized friction as well as resistance to wear. Bearings can accommodate misalignment, adjust for axial expansion of shaft, and maximize load capacity due to long self-guiding rollers.
Original Press Release
SKF CARB® Toroidal Roller Bearings Engineered to Withstand Tough Operating Conditions at Steel Mills
Press release date: January 6, 2014
SKF CARB® toroidal roller bearings introduce robust non-locating bearing solutions engineered to withstand the tough operating conditions encountered in a wide range of rotating machinery applications in steel mills.  These self-aligning bearings designed for radial loads exhibit very high load-carrying capacity, high running accuracy, low friction, and resistance to wear resulting in reduced noise and vibration and promoting improved reliability and longer service life.  Typical steel industry applications for these bearings include casters, large electric motors, gearboxes, fans, and others where non-locating bearings must be specified.
A CARB bearing (for radial loads only) in the non-locating, or "float," position in combination with a spherical roller bearing (for combined axial and radial loads) in the locating, or "held," position ultimately can deliver a highly efficient bearing arrangement to eliminate the influence of shaft contraction or expansion due to temperature fluctuations often associated with steel mill applications.
CARB bearings integrate design features from several conventional bearing types to realize optimized capabilities and performance.  They can accommodate misalignment (similar to a spherical roller bearing), adjust for axial expansion of a shaft (similar to a cylindrical roller bearing), and maximize load capacity due to long self-guiding rollers (similar to needle roller bearings).
All CARB bearings have further been upgraded to the SKF Explorer performance class characterized by high-quality steel and an improved heat treatment process to impart superior hardness and toughness for operation in the most difficult conditions.
CARB bearings are offered in a wide range of sizes and can be supplied with specialized seals and cages.  Custom designs can be engineered.
Contact
Ken Foster
Metals Industry Specialist
SKF USA Inc. 
Phone: 219-865-2693. 
Email:
Ken.R.Foster@skf.com
.
Web link:
http://www.skf.com/us/products/bearings-units-housings/roller-bearings/carb-toroidal-roller-bearings/index.html
SKF is a leading global supplier of bearings, seals, mechatronics, lubrication systems, and services which include technical support, maintenance and reliability services, engineering consulting and training. SKF is represented in more than 130 countries and has around 15,000 distributor locations worldwide. Annual sales in 2012 were SEK 64,575 million and the number of employees was 46,775.
www.skf.com