Product News: Machinery & Machining Tools
Toolholders increase thick turret punch press capacity.
Press Release Summary: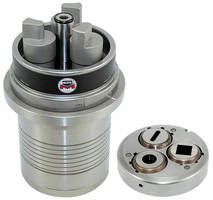 November 19, 2008 - Respectively, 3- and 8-station versions of Ultra® Multi Tools expand capacity of thick turret CNC punch press by allowing 3 or 8 punch and die sets to be placed in 3½ in. deep auto-index machine station. Quick tool change design does not require hand tools or disassembly, and each punch is adjustable for punch-to-stripper lead and die penetration for sheet thicknesses from 0.020-0.157 in. Other features include 0.004 in. min die clearance and sheet marking protection.
Original Press Release
Mate Introduces New Ultra® Multi Tools for Thick Turret Punch Presses
Press release date: November 8, 2008
- Multi Tools Expand Punching Capabilities -

Anoka, Minnesota: Mate Precision Tooling announces introduction of its Ultra® 3 station and 8 station Multi Tools for thick turret punch presses. These Multi Tools expand the capacity of a thick turret CNC press by allowing either 3 or 8 punch and die sets to be placed in a 3-1/2" D auto-index machine station.

Designed for use with Mate's Ultra TEC® punches, strippers and Slug Free® dies, these new Multi Tools enhance the high performance of today's thick turret punch presses* with the following operating features: o Ultra TEC punches provide exceptional life between regrinds. Ultra TEC strippers have recess for added 0.118 inch (3.00 mm) punch grind life while the Slug Free dies eliminate slug pulling and increase piece part quality. o The Multi Tool Drop-In quick tool change design allows changing tools in the upper assembly without hand tools or disassembly. Fast tool changes reduce machine downtime while increasing productivity. o Integral punch length adjustment feature ensures optimal punching performance and efficient slug discharge across a wide material range. Each punch is adjustable for precise punch-to-stripper lead and die penetration suitable for sheet thicknesses from 0.020 inch (0.50mm) to 0.157 inch (4.00mm). o 0.004 inch (0.10mm) minimum die clearance ensures unprecedented punching accuracy and cleanly punched edges for materials as thin as 0.020 inch (0.50 mm). The one-piece Multi Tool punch carrier eliminates cumulative tolerances to ensure punching accuracy. o Sheet marking protection eliminates sheet marking while improving piece part quality. The innovative Multi Tool holder is designed so that each tool is individually activated while inactive punches are prevented from moving, thus protecting part surfaces from unwanted marks. o Replaceable Multi Tool face plate reduces ongoing maintenance costs. Robust, simple design provides extended service life and is fully compatible with slide-in Ultra TEC strippers. o Mate Multi Tools are compatible with automatic tool lubrication delivery systems. Lubrication is delivered via the punch ram through the central shaft over all moving surfaces within the Multi Tool punch holder assembly. In addition, external spiral grooves in the outside diameter of the holder reduce friction between the machine and holder, especially during high speed nibbling operations.

"Extending the performance of today's high performance thick turret presses is every fabricator's objective," reports John Galich, Mate marketing manager. "Mate's new Ultra Multi Tools incorporating Ultra TEC tooling accomplishes that cost effectively while ensuring highest quality sheet metal parts. They are another great tooling option for fabricators looking for a competitive advantage."

For more information on Mate's Ultra Multi Tools, call for FREE brochure in USA and Canada, 1-800-328-4492. Outside USA and Canada, call 1-763-421-0230.

See at mate.com/ultramultitools Email: marketing@mate.com

Or write to MATE PRECISION TOOLING, 1295 Lund Boulevard, Anoka, Minnesota 55303. USA and Canada, Fax 1-800-541-0285. Outside USA and Canada, Fax 1-763-421-0285.

* (Requires compatibility with machine ram and programming software. Contact punch press machine supplier for details.)