Product News: Optics & Photonics
Tissue Culture Microscope has compact, ergonomic design.
Press Release Summary: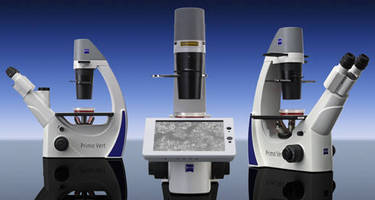 November 11, 2010 - Designed to accelerate and facilitate inspection of living cells, Primo Vert Monitor incorporates digital camera and LCD. Monitor can be tilted from 45° to 80° to accommodate individual postures, and microscopic images can be stored to SD memory card via integrated push-to-save camera. Features also include one universal phase slider for all objectives from 10x, 20x, and 40x; LED lighting; and objective-indicators that hasten magnification identification.
Original Press Release
Carl Zeiss Introduces the Primo Vert Monitor Microscope
Press release date: November 10, 2010
New design offers ergonomic advantages, convenient documentation and high-quality optics

Thornwood, NY - Carl Zeiss, a leading provider of microscopy solutions for a variety of research, clinical and industrial applications, introduces a new generation of ergonomic and compact tissue culture microscopes with its Primo Vert Monitor. The microscope makes the quick check of living cells faster and easier than ever before, replacing traditional eyepieces with an integrated digital camera and LCD display.

Primo Vert Monitor users can work in a more relaxed position because their heads are no longer fixed to microscope eyepieces, allowing for easy and convenient inspection of living cells whether users are sitting or standing. Because the monitor can be tilted from 45° up to 80°, researchers can easily adjust the LCD monitor to their individual posture. In addition, eyeglasses are no longer an obstacle during microscopic work; they do not have to be removed when checking microscopic images in the LCD monitor.

For documentation and safety purposes, the microscopic images can easily be stored to the SD memory card via the integrated push-to-save camera. This does not require a PC connection, allowing the whole system to work as a stand-alone solution in all laboratories. Additionally, a computer can be connected to the USB 2 port on the stand, and the images can be processed via the Carl Zeiss AxioVision LE software at no additional cost.

Further advantages of Primo Vert Monitor are:


For reliable microscopic images: high-quality optics provide high-contrast and brilliant images. Long working distances provide plenty of space for cell culture dishes.


For more efficiency: there is one universal phase slider (Ph1) for all objectives from 10x, 20x and 40x; this means no need to change phase positions when switching magnifications.


For the safety of our environment: Primo Vert Monitor is equipped with LED lighting. LEDs are characterized by long-life and low-power consumption, saving energy and saving costs.


For easy orientation: objective-indicators for fast identification of magnification.


For convenient working: special skin-friendly material coated on all operating elements and carrying handle on the back of the scope.

The traditional binocular version of Primo Vert was awarded the Reddot-Design Award 2010. For more information, please visit: http://zeiss.com/4125681F004CA025/ContentsFrame/7FB64904214DB3C285256B5600586322

About Carl Zeiss Carl Zeiss MicroImaging, Inc., a subsidiary of Carl Zeiss, Inc., offers microscopy solutions and systems for research, laboratories, routine and industrial applications. In addition, Carl Zeiss MicroImaging markets microscopy and digital pathology systems for the clinical market, as well as spectral sensors for industrial and pharmaceutical applications. Since1846, Carl Zeiss has remained committed to enabling science and technology to go beyond what man can see. Today, Carl Zeiss is a global leader in the optical and opto-electronic industries.

With 11,249 current employees in the Group and offices in over 30 countries, Carl Zeiss is represented in more than 100 countries with production centers in Europe, North America, Central America and Asia. For more information on the breadth of solutions offered by Carl Zeiss MicroImaging, please visit http://www.zeiss.com/micro.