Product News: Electrical Equipment & Systems
Time Delay Relays offer 21 timing functions.
Press Release Summary: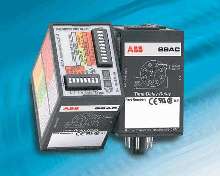 July 2, 2003 - Series TRDU plug-in, switch adjustable, multifunction relays offer time delays from 0.1 sec to over 1,705 hr in 8 ranges. Timing accuracy is ±.1% and setting accuracy is ±0.1% over full adjustment range. Any one of 10 single-functions or 11 dual-functions are selected by transferring 1 or more of 6 programming switches. Timing functions include Delay on Make, Delay on Break, Interval, Single Shot, Recycling, Motion Detector, accumulating functions, and inverted functions.
Original Press Release
Multifunction Time Delay Relay TRDU Series
Press release date: June 1, 2003
ABB SSAC, a manufacturer of electronic controls, is pleased to announce its newest plug-in, switch adjustable, multifunction time delay relay, the TRDU Series.

The TRDU Series was designed to simplify the selection of a plug-in time delay relay; one TRDU replaces hundreds of conventional time delay relays. Industry standard 8 and 11 pin base wiring makes substitution simple and fast, with no rewiring required.

The TRDU is the first series of time delay relays to include 21 timing functions. Any one of the 10 single-functions or 11 dual-functions is easily selected by transferring one or more of the six programming switches. Timing functions include: Delay on Make, Delay on Break, Interval, Single Shot, Recycling, Motion Detector, accumulating functions, inverted functions, and combinations of these. The dual functions can replace up to three separate timers in a system.

The TRDU's time delay is adjusted by closing a combination of 10 binary DIP switches. Switch setability makes first time adjustment easy and reliable. Available time delays range from 0.1 second to over 1,705 hours in 8 ranges. Timing accuracy is ±.1% and setting accuracy is ±0.1% over the full adjustment range.

The TRDU is available for operating voltages of 12 or 24 VDC, 24, 120 or 230 VAC 50/60 Hz. Its DPDT or SPDT isolated relay contacts are rated 10 amps resistive @ 240 VAC.

The TRDU Series is microcomputer controlled for accuracy and includes IEEE C62.41-1991 Level A transient protection circuitry for reliability. It is UL recognized, CSA certified, and CE. The TRDU is available through ABB SSAC distributors throughout the world.

For more information contact:
ABB Entrelec
(800)431-2308