Product News: Sensors Monitors & Transducers
Thermography System reveals PCB and component temperatures.
Press Release Summary: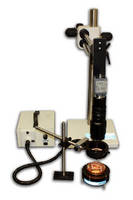 January 9, 2014 - Equipped with solid-state color camera, ethermVIEW™ System provides macroscopic inspection of boards and components coated with heat-sensitive liquid crystals, which reflect incident light at visible wavelengths based on surface temperatures where they are applied. Camera captures reactive TLC colors to reveal hot spots and defects for effective thermal management. Linking to PC via Firewire, system includes thermSOFT software for image processing and management.
Advanced Thermal Solutions, Inc. - Norwood, MA
Original Press Release
Liquid Crystal Thermography System Reveals PCB and Component Temperatures
Press release date: January 7, 2014
The new ethermVIEW™ liquid crystal thermographic analysis system provides optical temperature measurements of active PCBs and components. The ethermVIEW system uses the color response of thermochromic liquid crystals (TLC) for non-invasive thermal studies.

Developed by Advanced Thermal Solutions, Inc., the ethermVIEW system includes a high performance, solid-state color camera for macroscopic inspection of boards and components coated with heat-sensitive liquid crystals.

The camera features a flicker-free white light source for clear viewing of dark surfaces and partially concealed features. It links to a PC by Firewire, the standard connection for high definition video devices. For image processing and management, the system includes the proprietary thermSOFT software used in other ATS thermal analysis devices. A transformer is provided for international use.

Liquid crystals used with ethermVIEW reflect incident light at visible wavelengths based on the surfaces temperatures where they're applied. The camera captures the reactive TLC colors to reveal hot spots and defects for more effective thermal management.

In contrast to infrared thermography systems, the ethermVIEW TLC method is not affected by ambient temperatures. It provides more precise temperature measurements – within +/- 0.1°C accuracy. The ethermVIEW system can also be purchased for less than one third the cost of a typical IR thermography system.

ATS provides a choice of TLC-100 liquid crystals formulated to respond visually to specific temperatures. TLC-100 crystals are specifically designed for mapping heat fields on PCBs and components. The crystals change color at a specified temperature starting at red, changing to green then blue. The ethermVIEW system can also be calibrated to use any standard thermochromic liquid crystals. ATS provides four calibrations at no cost during the first year of ownership of an ethermVIEW system.

Starting price for the ethermVIEW thermographic analysis system is US $15,000 depending on configuration and volume of liquid crystals provided.

More information appears here and on Qats.com, or by calling ATS 1-781-769-2800