Product News: Mounting & Attaching Products
Thermoelectric Cold Plate meets needs of 19 in. rack applications.
Press Release Summary: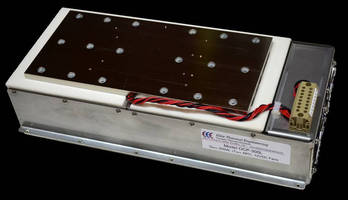 April 3, 2014 - Designed for OEM or laboratory applications, 19 in. rack version of 300 W thermoelectric cooling plate (OCP-300L) measures 15 x 7.25 x 3.72 in. and uses microforged heatsinks and duct air from one end of heatsink thru fins to other end instead of impinging air into center of heatsink. Cooling capacity is 300 W and can be increased by adding more heatsinks. Available for OCP-300L, heatsink model HS-004L offers 0.04°C/W thermal resistance.
Elite Thermal Engineering - Bothell, WA
Original Press Release
High Power Thermoelectric Cold Plate for 19" Rack
Press release date: March 26, 2014
Elite Thermal Engineering (ETE), a leader in high power high performance thermoelectric cooling devices introduces the 19" rack version of our popular 300W thermoelectric cooling plate OCP-300 and the high power heatsink HS-004. The new model numbers are OCP-300L, and HS-004L.
Both are designed for OEM or laboratory applications addressing a need for 19" rack systems. Thermoelectric cold plates on the market so far mostly employs impingement cooling and extruded heatsinks; making it hard for users to install them in 19" racks or in small spaces. ETE's OCP series uses advanced microforged heatsinks and duct air from one end of the heatsink thru the fins to the other end, instead of impinging air into the center of the heatsink. OCP series occupies much smaller space, provides higher performance, a perfect solution for many OEM applications such as high power fiber laser cooling, bioscience, processing, healthcare, and military applications. OCP-300L is only 85mm tall with 300w cooling capacity. Higher cooling capacity can be achieved by adding more heatsinks.
Model OCP-300L offers same performance as OCP-300, providing 300w of highest thermoelectric cooling capacity in a compact package of 15"L x 7.25" W x 3.72". It is perfect for high power fiber laser systems built in 19" racks.
Model HS-004L is the high performance heatsink used for OCP-300L, offering 0.04C/w thermal resistance in an extremely compact package. It is also intended for customers who need to package their systems in 19" racks.
As all other predecessors, both OCP-300L and HS-004L comes with water proof option to satisfy customers in defense and aerospace industry.
ETE also supplies high power butterfly laser mounting adaptors, integrated thermoelectric cold plates for butterflies.
Please contact ETE at
contact@elitethermalengineering.com
 for more information. Detail datasheet is
http://www.elitethermalengineering.com/dataasheets/33001.pdf