Product News: Computer Hardware & Peripherals
Thermal Transfer Ribbons are resistant to abrasion.
Press Release Summary: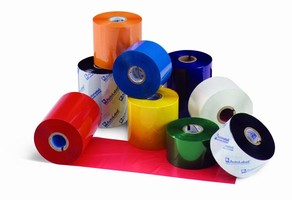 November 16, 2006 - Designed for printing bar codes, text, and graphics, AutoLabel(TM) Ultra-V Thermal Transfer Ribbon is resin-enhanced and resistant to scratching, smearing, flaking, and UV rays. UltraPrint resin-enhanced wax thermal ribbon features multi-layer construction and quick release suited for extreme environments and overprinting on AutoGrafix(TM) inks. Achieving print speed of up to 12 ips, Ultra Wax ribbon suits printing on coated and uncoated paper in high volume applications.
Automated Packaging Systems, Inc. - Streetsboro, OH
Original Press Release
Automated Packaging Systems New AutoLabel Thermal Transfer Ribbons Provide Higher Quality
Press release date: October 31, 2006
STREETSBORO, OH - October 31, 2006 - Automated Packaging Systems, the world leader in high-reliability packaging systems, announces the introduction of three new lines of high quality, thermal transfer ribbons. Premium AutoLabel(TM) Ultra-V Thermal Transfer Ribbon is designed for extreme durability in printing high-resolution bar codes, text and graphics, and is the ribbon of choice in most Autobag® applications. Ultra-V is a specially formulated, resin enhanced wax ribbon designed for durability and resistance to scratching, smearing, flaking and ultraviolet rays. It has superior density, high contrast, and excellent edge definition, required when printing product identification and bar code labeling for retail and industrial markets. Ultra-V ribbon is available in a wide range of colors and is ideal for applying small characters and high quality bar codes that produce optimum scan rates. Ultra-V is system-matched for guaranteed performance with Autobag Print-n-Pack(TM) systems. The new AutoLabel(TM) UltraPrint Thermal Transfer Ribbon is a super premium, resin enhanced wax thermal ribbon designed for specialty applications. UltraPrint ribbon features unique, multi-layer construction with quick release and advanced binding properties that are ideally suited for extreme environments and overprinting on AutoGrafix(TM) inks. Superior density and contrast provide excellent edge definition, and with its high resistance to scratching and abrasion, UltraPrint is ideally suited for frequent scanning and handling applications. The AutoLabel(TM) Ultra Wax Thermal Transfer Ribbon is a full wax, general purpose ribbon developed for high-volume applications. With Ultra Wax ribbon, high-density, black images are achieved at speeds up to 12 inches per second. Ultra Wax is ideal for both coated and uncoated paper, has excellent print quality for superior scan rates, and resists abrasion and smearing. "All our new AutoLabel ribbons feature SPECTR(TM), an innovative static elimination system that completely removes static, and repels contaminants that can damage print heads," stated Tim Groff, Director of Marketing. "Our patent pending SPECTR formula is inside the ink, not used as a back coating. This protects equipment and operators from any electrostatic discharge, and it provides longer equipment life for print heads," Groff added. All three lines of AutoLabel Thermal Transfer Ribbons are manufactured under ISO 9001/9002 certified processes to ensure consistent quality, and have a one year guaranteed shelf-life when properly stored. About Automated Packaging Systems Automated Packaging Systems has been designing and manufacturing original Autobag®, SidePouch(TM) and AirPouch(TM) systems and products for more than 40 years. With more than 25,000 packaging systems in operation and a national service organization, Automated Packaging has the experience and support to deliver the ultimate in customer satisfaction. The company's Systems Advantage(TM) Program combines machines, materials and services to further enhance the value of its packaging solutions. www.autobag.com