Product News: Materials & Material Processing
Thermal Insulation handles applications to 950°C.
Press Release Summary: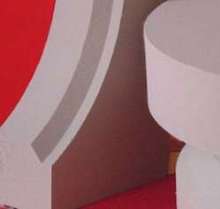 March 9, 2004 - MICROSIL Microporous Silica Thermal Insulation, with low-density construction of 230 kg/m³, minimizes conductive heat transfer. Billions of nano-pockets block convection and reflect heat energy back to source. Product combines silica powders, refractory oxides, and glass reinforcing agents and offers thermal conductivity of 0.038 W/mK at 800°C. Immune to thermal shock, non-combustible material is available in flat board form up to 2 in. thick and also as custom-machined products.
Original Press Release
ZIRCAR Ceramics, Inc. Introduces MICROSIL its new line of Microporous Silica Insulation
Press release date: March 5, 2004
ZIRCAR Ceramics, Inc., of Florida, NY is proud to announce the introduction of its new MICROSIL Microporous Silica Thermal Insulation. Unique to MICROSIL's microporous structure is its low density which minimizes conductive heat transfer and its billions of nano-pockets which block convection and reflect heat energy - like mirrors - back to its source. Microsil is a combination of ultra-fine silica powders specially processed refractory oxides and glass reinforcing agents. Compacted under tons of pressure to form a lightweight yet rigid structure MICROSIL offers a maximum insulation value in a minimum amount of space saving weight and most importantly energy. Microsil exhibits a density of 230 kg/m3 (14.4 pcf) and offers a very low thermal conductivity of 0.038W/mK at 800C. For more information and to order MICROSIL please go to the company's website
www.zircarceramics.com
or E-mail us at sales@zircarceramics.com. Call David Hamling Vice President at 845 651 6600 ext. 13. General Information: Microsil Microporous Insulation is an incredible insulation material. Having thermal conductivity an order of magnitude lower than ceramic fiber materials Microsil Microporous Insulation can be an integral part of thousands of thermal management applications with temperatures as high as 950°C (1742°F). Microsil is a combination of ultra-fine silica powders, specially processed refractory oxides and glass reinforcing fibers. Compacted under tons of pressure to form a light weight yet rigid structure Microsil offers a maximum insulation in a minimum amount of space saving weight and most importantly energy. Unique to Microsil's microporous structure is its low density which minimizes conductive heat transfer and its billions of nano-pockets which block convection and reflect heat energy - like mirrors- back to its source. Microsil is nearly immune to thermal shock. It is completely non-combustable in accordance with standard DIN 4102 Class A1 and can be stored indefinately in dry conditions. Microsil's microporous struture is adversely effected by water, oil, alcohol and other liquids. Suggested Applications: · Primary thermal insulation in low mass furnaces and thermal process systems operating to 950°C (1742°F). · Backup thermal insulation in furnaces and thermal process systems operating to high temperatures. · Backup insulation in molten metal launders & distribution boxes, furnace and kiln flue and chimney linings, combustion chamber liners, baffles and muffles. · Thermal insulation in hot appliances. · Primary thermal insulation in oil well and thermal process system piping. Availability: Microsil is available in flat board form up to 50mm (2 inch) thick as well as in custom machined customer specified configurations. Machinability: Microsil exhibits a tightly compressed uniform pore structure facilitating its machinability to tight tolerances. Precisely machined parts can be obtained through the use of conventional carbide tooling. ZIRPORCOAT Coating: ZIRPORCOAT is a single-part coating designed specifically for use with Microsil Microporous Insulation. Applied by brushing or dipping ZIRPORCOAT combines with the surface of the Microsil and works to increase its surface hardness. It also improves handelability and reduces particulate generation. The partially coated disc on the left shows a sponged application of full-strength ZIRPORCOAT. The disc on the right was dipped in a diluted (3 parts ZIRPORCOAT / 1 part H2O) ZIRPORCOAT solution. The thickness of both coatings in very small, less then 0.05mm ( 0.002"). Properties & Characteristics Color Grey Density kg/m³ (pcf) 230 (14.4) Composition, % of SiO
2 80 SiC 15 Other Oxides 5 Max Use temperature, C (F) 950 (1742) Specific Heat, J/Kg C (BTU/Lb F) (RT to 800°C (1472°F)) 800 (0.19) Compression at 14psi, % 2.9 Linear shrinkage, % at 800°C ( 1472F) 1.0 1000°C (1832F) 4.8 Thermal Conductivity W/mK (Btu-in/hr ft2 F) at 20°C (68°F) 0.019 (0.132) 200°C (392°F) 0.023 (0.145) 400°C (752°F) 0.028 (0.173) 600°C (1112°F) 0.030 (0.208) 800°C (1472°F) 0.038 (0.263 Cold Crushing Strength, N/mm² 1.1 Availability: Microsil
Item#      	Description	              Unit Price D117-01	Microsil, 650 x 1000 x 25mm  $176.00 D117-02	Microsil, 650 x 1000 x 50mm  $297.00
ZIRPORCOAT Item#	      Description	        Unit Price D8285	ZIRPORCOAT, 1 Qt	         $191.00 D8290	ZIRPORCOAT,11kg-8Lt Bucket.  $1158.00