Product News: Optics & Photonics
Thermal Imaging Camera lets users see heat contrasts.
Press Release Summary: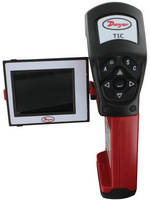 September 27, 2012 - Series TIC translates measured levels of IR radiation given off by objects into visuals on 2.5 in., 160 x 120 resolution LCD. For increased temperature differentiation, camera can automatically adjust color band for narrower range of temperatures throughout -4 to +482°F range. Aside from taking spot measurements, unit can also be set for isothermal, area, or profile analysis. Li-Ion battery and charger, docking station, SD memory card and reader, and reporting software are included.
Dwyer Instruments, Inc. - Michigan City, IN
Original Press Release
Series TIC Thermal Imaging Camera
Press release date: September 26, 2012
Dwyer Instruments, Inc., the preferred source for your complete range of practical and affordable instrumentation, is announcing the release of its NEW SERIES TIC THERMAL IMAGING CAMERA.

The Series TIC Thermal Imaging Camera allows users to see heat contrasts to prevent plant equipment failures, detect air leaks in buildings, and many more applications.  Infrared radiation is given off by objects according to how warm they are and the camera translates the measured levels into visual light on the bright 2.5" 160 x 120 Resolution LCD.  For increased differentiation among temperatures, the camera can automatically adjust the color band for a narrower range of temperatures throughout the – 4 to 482 F ( -20 to 250 C) temperature range of the camera.  Besides taking spot measurements, the camera can also be set for isothermal, area, or profile analysis.  All cameras include a Li-Ion battery, battery charger, docking station, SD memory card, SD memory card reader, sun shield, lens cap, video cable, standard reporting software, and a calibration report.  A Bluetooth® earphone and USB cable are also included in TIC-30 units for making voice annotations and real time recording. Up to 9 movable temperature spots can be selected to get specific temperature measurements of objects on the display.  On the TIC-20 and TIC-30, there are flash, visual light camera, and a laser pointer to help identify the objects in the picture better.  The visual image can be blended with the thermal image for better illustration of where the hot or cold spots are in the image.

Complete details are available on our website @ http://www.dwyer-inst.com/Product/TestEquipment/ThermalImagers/SeriesTIC

Dwyer Instruments, Inc.
P.O. Box 373
Michigan City, IN 46361
Phone: (800) 872-9141 or (219) 879-8000
Fax: (219) 872-9057
Internet address: http://www.dwyer-inst.com/
E-mail: lit@dwyer-inst.com