Product News: Controls & Controllers
Temperature/Process PID Controllers feature NEMA 4 front bezel.
Press Release Summary: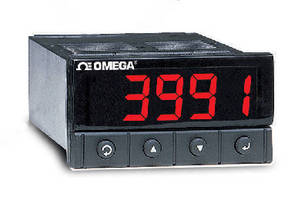 October 18, 2012 - Equipped with programmable color displays, Series Dpi32 and CNi32 are microprocessor-based 1/32 DIN temperature/process meters and PID controllers with RS-232 and RS-484 serial communications. CNi32 Series features 2 outputs: control, alarm, or retransmission of process variable as well as universal inputs: thermocouple, RTD, process voltage/current. Built-in 24 Vdc excitation is standard on units without DC power or communication options.
Omega Engineering, Inc. - Norwalk, CT
Original Press Release
OMEGA Introduces 1/32 DIN Programmable Temperature/Process PID Controllers CNi32 and Dpi32 series
Press release date: October 17, 2012
Stamford, CT USA

Omega introduces its new high quality, high accuracy series of 1/32 DIN programmable temperature/process meters and PID controllers with RS-232 & RS-484 communications. The user friendly, easy to configure Dpi32and CNi32 are the first full series of instruments with programmable color displays. The CNi32  features 2 outputs: control, alarm or retransmission of process variable as well as universal inputs: thermocouple, RTD, process voltage/current. This series has free software, active X controls, and built-in 24 Vdc excitation, standard on units without DC power or communication options. It can be used to monitor or control a process temperature in a heat treating application fabricating metal parts. Ideal for the automotive, plastics, manufacturing and chemical industries.

Price Starts at $184

ATTN Editor, please use this link to the complete spec sheet as the link printed with the product release: http://www.omega.com/pptst/CNI32_Series.html

Email: info@omega.com
Twitter: @OmegaEng
Facebook: http://www.facebook.com/pages/Omega-Engineering/121219014465
Phone: 1-800-TC-OMEGA or 203-359-1660