Product News: Test & Measuring Instruments
Temperature Data Logger suits in-transit applications.
Press Release Summary: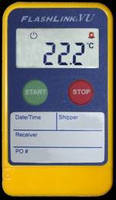 June 4, 2010 - Monitoring temperature inside transport vehicles, FlashLink VU is suited for recording storage and transport conditions of temperature-sensitive products. Digital LCD display provides immediate temperature status information and trip statistics, including upper/lower temperature limits and cumulative duration of any temperature excursions. Packaged in highly visible yellow sleeve, single-use device allows access to temperature history data, even while operating or downloading data.
Original Press Release
DeltaTRAK Introduces New FlashLink VU Temperature Data Logger for Storage and Transport
Press release date: May 28, 2010
PLEASANTON, CA - DeltaTRAK®, Inc., a leading manufacturer of cold chain management solutions and food safety solutions, announces the introduction of a new electronic data logger, the FlashLink VU. The in-transit FlashLink VU is the ideal device for documenting storage and transport conditions of temperature-sensitive products. The FlashLink VU data logger is the newest and most advanced digital electronic data logger to help monitor the temperature inside transport vehicles. DeltaTRAK's FlashLink VU has been nominated for "Best New Product" in Food Safety Innovation. It has a large, easy to read LCD display which provides immediate temperature status information and trip statistics including upper and lower temperature limits, cumulative duration of any temperature excursions, highest temperature, lowest temperature, and average temperature. The single-use FlashLink VU allows for access to temperature history data without having to stop the unit or download the data and, DeltaTRAK's patented Shadow Log® feature guarantees temperature history data even if the operator fails to start the logger. The FlashLink VU is packaged in a highly visible yellow sleeve with easy to follow instructions and helps the receiver locate the data logger very quickly. DeltaTRAK provides high quality food safety and quality assurance solutions for many industries including meat, poultry, seafood, dairy, produce, floral, life sciences, pharmaceutical, chemical and HVAC/R. "The basis of our R&D is always focused on fulfilling customer needs. We design our products and software for specific applications to enhance Cold Chain or Food Safety Solutions. We try to use state of the art technology with practical economics, ease of use design that brings value and benefit to the customer in accomplishing their objectives." says Frederick Wu, President and CEO. DeltaTRAK is an ISO certified manufacturer. About DeltaTRAK DeltaTRAK manufactures high quality hardware and software for the monitoring and recording of temperature, humidity, and pH. Headquartered in Pleasanton, California, DeltaTRAK also has an R&D facility in San Diego, California, a manufacturing and distribution facility in Modesto, California, and an electronic assembly plant in Shenzhen, China. Contact DeltaTRAK by phone at 1-800-962-6776 or by email at salesinfo@deltatrak.com. Additional information can be found at www.deltatrak.com. DeltaTRAK®, Inc.
P.O. Box 398
Pleasanton, CA 94566
USA
(925) 249-2250 or (800) 962-6776
Fax (925) 249-2251
E-Mail: salesinfo@deltatrak.com