Product News: Green & Clean
Telescopic Loader combines capacity, lift height, horsepower.
Press Release Summary: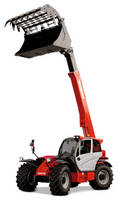 June 17, 2014 - Powered by 141 hp Interim Tier IV John Deere diesel engine, MLT 960 has 13,200 lb max lift capacity, 29 ft 6 in. max lift height, and 7,700 lb max capacity at maximum lift height. Features include Continuously Variable Transmission (CVT) gearbox, reinforced Dana axles, quick-fit mounting system, and Duplex boom. Inching pedal helps manage forward movement and hydraulic-powered attachment speed separate from vehicle engine speed. Turning radius is 13 ft 1 in., and max travel speed is 25 mph.
Original Press Release
Manitou MLT 960 Multi-Purpose Telescopic Loader
Press release date: June 9, 2014
More capacity, lift height and horsepower combined than any other telescopic loader in North America
TECHNICAL SPECIFICATIONS
MLT 960
Maximum Lift Capacity (kg) 13,200 lbs. (6000)
Maximum Lift Height (m) 29΄6˝ (9)
Capacity at Maximum Lift Height (kg) 7,700 lbs. (3500)
Turning Radius (m) 13΄1˝ (3.98)
Power (kW) 141 hp (104)
Transmission Type Continuously Variable (CVT)
Maximum Travel Speed (km/hr) 25 mph (40)
FEATURES
With a maximum capacity of 13,200 lbs. (6000 kg) and a maximum lift height of 29'6" (9 m), the MLT 960 telescopic loader is the ideal choice when you need a combination of loading power and high lift height. Specializing in material handling tasks, this unit excels in heavy duty work for agriculture, waste management and bio-gas applications. The MLT 960 is equipped with a 141 hp (104 kW) Interim Tier IV John Deere diesel engine.
The all-new Continuously Variable Transmission (CVT) gearbox provides smooth drive operation while maintaining maximum tractive effort at any speed. The transmission control reacts to the demand on the machine to provide the correct torque and speed automatically without interruption. By enabling the engine to run at its most efficient speed, the CVT system provides better fuel economy than other transmission systems. Reinforced Dana axles ensure no drop in torque from 0 – 25 mph (40 km/hr). Additionally, an inching pedal has been implemented into the MLT 960 to assist in managing forward movement and hydraulic-powered attachment speed separate from the vehicle engine speed.
Load sensing hydraulics are made possible by a variable piston pump, which delivers more efficiency and less heat than a standard gear pump. Standard auxiliary hydraulics bring 3900 psi (270 bar) of pressure and a flow rate of 47.7 gpm (180 L/min.)
The new, Manitou-patented, Duplex boom provides 360 degrees of visibility due to its low mount position. High quality steel results in a stronger overall design. A reduction in overall weight of the internal components increases lifting capacities with a minimal increase in machine size.
Comfort is key for operators spending much of their day in the cab of the machine. For greater operator efficiency, switches and controls are grouped according to function. Drive, boom and hydraulic functions are all controlled by the JSM (joystick, switch & move) control, leaving the other hand free to operate the steering wheel. A highly-visible, side-mounted interactive dashboard digitally displays the hour meter, speed, travel direction and maintenance reminders.
With its large lift capacity and high lift height, the MLT 960 telescopic loader provides a unique alternative to large wheel loaders. The MLT 960 provides a fixed load capacity while turning, extended forward and vertical reach, and extra bucket curl over large wheel loader models. The unit also provides excellent versatility. The quick-fit mounting system connects easily to a wide range of Manitou-tested attachments. A hydraulic lock option provides for fast attachment changes without leaving the operator's seat. A wide variety of approved attachments include forks, rotating carriages, buckets (including a 5 cu.yd. bucket), grapples, bale handlers, and hay handlers.
Additional comfort is gained by the use of cushioned stops on the lift cylinders. This creates smoother operation when lowering and extending the boom. The optional Comfort Ride Control (CRC) boom suspension system minimizes the loss of material when traveling.
Extra attention was paid to the ease of service and maintenance for the all-new MLT 960 telescopic handler. A large engine cover is hinged and equipped with gas springs to assist in the lifting and holding in place during servicing. The engine, cooling system and daily maintenance points are easily accessible through the large engine cover. Grease fittings are centralized, making regular axle lubrication easy.
APPLICATIONS
The Manitou MLT 960 Telescopic Handler is positioned in the North American market to meet the needs of users who require a combination of heavy-duty loading/unloading, lift height and forward reach. Its sturdy, reliable build offers intuitive features that are sought out by the agriculture, environment, cooperative, waste management and bio-gas sectors.
INTERVIEW
"The MLT 960 smashes through the top of the agricultural market segment for telescopic handlers by offering more capacity, more lift height (and the associated greater working range) and more horsepower than any other product in North America," says Steve Kiskunas, Product Manager for Telescopic Handlers. "This product easily handles the demands of high capacity material transport for agricultural use, provides a quick method of tool changing with a large array of available attachments, and can be placed into industrial applications and high capacity lift applications."
Additional product information is available at
www.manitou.com
Corporate information is available at:
www.manitou-group.com
Press information:
l.heidecker@manitou-group.com
Tel.: 262-334-9461