Product News: Sensors Monitors & Transducers
Teardrop ICP® Accelerometer features 100 mV/g sensitivity.
Press Release Summary: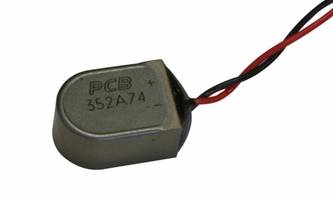 March 15, 2017 -
Designed with flexible one-foot, twisted pair integral cable, Model 352A74 Teardrop ICP® Accelerometer offers low-noise and low impedance output signal with long distance signal transmission. Operating in -65 to +250 °F temperature and can withstand ±5,000 g accidental shock input, unit's cable is terminated in 10-32 connector.
Original Press Release
New Miniature Teardrop ICP® Accelerometer
Press release date: March 10, 2017
Ideal for Small Component Vibration and Package Testing
A new miniature teardrop ICP® accelerometer is released by PCB Piezotronics, Inc. Model 352A74 has a sensitivity of 100 mV/g and a measurement range of ±50 g peak. The sensor is hermetically sealed in a low profile titanium housing and is adhesively mounted.
With a flexible one-foot, twisted pair integral cable, it easily mounts in tight spaces. The cable is spliced into a heavier gauge coaxial cable for a length of 10 feet, terminating in a 10-32 connector.
With built-in microelectronic signal conditioning circuitry, Model 352A74 provides a low-noise, low impedance output signal while permitting long distance signal transmission and simplicity of operation. The durable design operates in -65 to +250 °F temperatures and survives accidental shock inputs to ±5,000 g.
Model 352A74 is available for immediate shipment. For additional information, visit pcb.com/accelerometers/352A74 or contact Mike Lindstrom, PCB® Product Manager, at (800) 828-8840, x-2108 or mlindstrom@pcb.com.
PCB Piezotronics, Inc.
PCB Piezotronics Inc. is a designer and manufacturer of microphones, vibration, pressure, force, torque, load, and strain sensors, as well as the pioneer of ICP® technology. This instrumentation is used by design engineers and predictive maintenance professionals worldwide for test, measurement, monitoring, and control requirements in automotive, aerospace, industrial, R&D, military, educational, commercial, OEM applications, and more. Our Platinum Stock Sensors program ensures same day shipment of over 10,000 sensors that are covered by lifetime warranty. With a worldwide support team of Field Sales, Application Engineers, and Customer Service Representatives, PCB® proudly stands behind their products with the services you value most, including a 24-hour SensorLinesm,, a global distribution network, and the industry's only commitment to Total Customer Satisfaction. Visit www.pcb.com for more information.
For media inquiries please contact:
Tina McKean,
Marketing
(800) 828-8840