Product News: Computer Hardware & Peripherals
Tablet Computer allows mobile use of barcode tracking software.
Press Release Summary: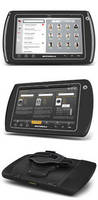 November 15, 2012 - Rugged tablets, available for use with CheckMate Suite of Barcode Tracking applications, enable data entry at point of action and accelerate bottleneck identification. Integrating major functions within organization, software includes tracking of assets, inventory, documents, job costing, tools, and equipment and can be used anywhere within wireless range of server. Windows OS-based tablets are sealed against dust and moisture and feature viewing screen that works in direct sunlight.
Original Press Release
DSI Integrates Tablet Computing with CheckMate Barcode Tracking Software
Press release date: October 29, 2012
Redmond - WA – Dynamic Systems, a Redmond, Washington software developer, specializing in data collection applications has introduced rugged tablet computers for use with the CheckMate Suite of Barcode Tracking applications based on bar code technology.

Launch of The Tablet For Mobile Computing
The rugged tablet computers would be used in conjunction with the CheckMate Software Suite, when it's necessary to take the full power of the software to the production line or shipping dock within a facility.  The Checkmate software, which integrates major functions within an organization and includes tracking of assets, inventory, documents, job costing, tools and equipment, can now be used anywhere within wireless range of the server.  Now the fish processor can work at the dock, the farmer can take SIMBA processing to the field and a construction company can have access to their full database in their yard.

The tablet computers are Windows OS based, rugged, sealed against dust and moisture, and have a viewing screen that works well in direct sunlight. 

Cost Justification
Advantages to the using the rugged tablet computer with The CheckMate Barcode Tracking Software include: ability to enter data at the point of action, ability to identify bottlenecks quickly, show improvement in productivity, reduce employees' frustrations and increase a company's bottom line. "Our customers see a typical payback for the software within 3-4 months," states Rob Freeman, V.P. Business Development.

About Dynamic Systems (DSI)
Since 1981, DSI has been a leading provider of barcode tracking solutions to over 40 industries that include: manufacturing, Construction / Restoration, Public Safety, Food Beverage, Education, Government, and DOD.

To learn more about the applications of The Checkmate Barcode Tracking Software visit www.a-barcode.com and http://www.a-barcode.com/case-studies/#food-and-beverage.

Contact:  Rob Freeman,
V.P. Business Development
robf@dsisales.com
800-342-3999