Synthetic Food Grade Lubricants meet FDA H-1 regulations.
Press Release Summary: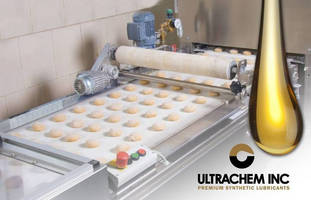 June 25, 2010 - Available for compressor, hydraulic, chain, gear, and multipurpose applications, Omnilube® food grade synthetic lubricants are suited for all food, beverage, pharmaceutical, and related industries. They meet all requirements of USDA, 21 CFR 178.3570, and conform to requirements of NSF. Also available in 12 oz aerosol spray cans, lubricants are formulated from high quality polyalphaolefin (PAO), polyalkylene glycol (PAG), ester, and mineral base oils, depending on application.
Original Press Release
Ultrachem Introduces Omnilube® Synthetic Food Grade Lubricants for Compressor, Hydraulic, Gear and Multipurpose Applications
Press release date: June 10, 2010
New Castle, DE - The Omnilube® family of lubricants from Ultrachem, Inc. is a complete line of premium quality food grade synthetic oils and greases for incidental food contact that are specially designed for reduced lubrication intervals, longer equipment life, less downtime, and reduced maintenance costs. Omnilube® lubricants are available for compressor, hydraulic, chain, gear and multipurpose applications and are well suited for all food, beverage, pharmaceutical and related industries. Omnilube® food grade products meet all of the requirements of the USDA and FDA H-1 regulations, 21 CFR 178.3570, and conform to the requirements of NSF. They are also approved by the Orthodox Union for Kosher use. Ultrachem's Omnilube® fluids are formulated with excellent anti-wear protection and oxidative stability, qualities that have been shown to surpass other food grade products on the market and outperform many non-food grade lubricants in food processing applications. "With the Omnilube® line of premium food grade synthetics and white oils," said Bob Whiting, president of Ultrachem, "performance is no longer sacrificed when converting to food grade products." Omnilube® fluids are formulated from the highest quality polyalphaolefin (PAO), polyalkylene glycol (PAG), ester, and mineral base oils, depending on application. Ultrachem also offers food grade grease and multipurpose oil in convenient 12-ounce aerosol spray cans. Full specifications are available for download at
www.ultracheminc.com
. For more information, contact Ultrachem, Inc., 900 Centerpoint Boulevard, New Castle, DE 19720, USA. Tel: 302-325-9880; Fax: 302-325-0335; E-mail: info@ultracheminc.com; Web:
www.ultracheminc.com
. Established in 1965, Ultrachem is one of the oldest specialty synthetic lubricant compounders and has become a leading supplier to the OEM and industrial maintenance markets. With its headquarters and manufacturing facilities in Delaware, Ultrachem offers a wide range of products including food grade lubricants, impregnating oils and gels, high pressure compression lubricants, and gas compression lubricants. Ultrachem is a member of the Independent Lubricant Manufacturers Association (ILMA). Reader Service Inquiries: Please forward to Bob Leverich at Ultrachem, Inc., info@ultracheminc.com. Please refer to the following number in correspondence: UCI-007